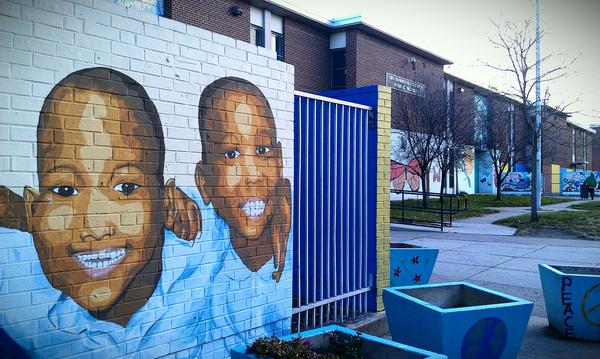 Parents of students attending Cook-Wissahickon Elementary School in Roxborough say the School District of Philadelphia has left them in the dark about potential classroom changes and shifts in teacher assignments set to happen this month as part of the district's "leveling" process.

"There's just no clear-cut information," co-president of the Cook-Wissahickon Home School Association Tom Alexander said. "First there was rumor that this process was over. Now the rumor is that nothing will be official until the [Oct.] 15th. You never know what to believe now because nobody in the District seems to be releasing any public information."

Leveling is an annual process through which the district assesses school attendance to determine where teachers are needed most. According to school district spokesman Fernando Gallard, due to lack of funding, the leveling process has been more challenging for the district this year.

"It is much more difficult this year because, in prior years, we had the money to be able to add teachers," Gallard said. "This year we cannot add teachers. So, what we have to do is move teachers around to be able to meet the needs of the students."

Alexander, who has both a son and a daughter attending Cook-Wissahickon, said he and other parents have no idea what the district's leveling process will mean for their children's school.
Will they lose teachers? Will their children's classrooms double in size? Will the school's classrooms be split-grade?
Alexander says parents are unsure because they haven't received any notifications about the process from either the school or the district.

"It's bad enough, everything that's going on in the district, but then everybody is totally in the dark as well. You have to find everything out either through rumor or maybe somebody slips and tells you something that they weren't supposed to say yet," he said.

According to Gallard, school principals were instructed not to notify parents about potential changes until the leveling process was complete. But not all of the district's principals have abided by that rule.

Siouda Douglas, principal at Abram S. Jenks School in South Philadelphia, sent a letter to parents on Oct. 7 informing them that, as a result of leveling, nearly all of the school's classrooms would be converted to split-grade. The letter prompted a protest by parents of students attending Jenks and led some Cook-Wissahickon parents to fear the same structure changes might occur at their school.

Rebecca Poyourow, who also has two children attending Cook-Wissahickon says the district's lack of notifications to parents about the leveling process is very problematic.

"Parents are just screaming mad. They don't know what's coming next for their kids; they can't depend on any consistency. They can't even depend that the teacher their kid gets at the beginning of the year is gonna be there," Poyourow said.

"This is gonna cause major chaos because you're gonna impact all of these kids who have had a month of school already and established relationships with their teachers, who have gotten routines; and you take that all away, in October? You are asking for it," Poyourow said.

Gallard said the leveling process has always been completed in October, primarily because parents are often still making placement decisions for their children during the first month of school.

"The reason why we do it in October is because it allows us to wait until students have settled down and leveled. Historically, up to 30-percent of students in the District move within a single school year. It's a big challenge for us because that shifts people around. That's why we wait until October to do this," he said.

In previous years, Gallard said, the leveling process has been completed by Oct. 15. This year, however, that deadline has been extended to Oct.28. Though it may not be having the desired effect, Gallard says this extension to the leveling process was implemented to limit confusion among students and parents.

"We understand that this could be an absolute issue for students and for parents," he said. "That's why we are very careful and very thoughtful about moving teachers out and moving teachers around. And that's why we're taking extra time this year; that's why we extended to the 28th to be very thoughtful about this process."