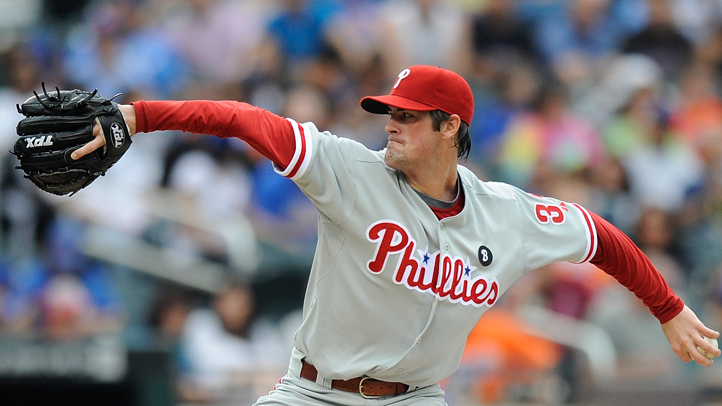 R.A. Dickey took a no-hit bid into the seventh inning, David Wright hit a tiebreaking double in the eighth and the New York Mets beat the slumping Phillies 2-1 Saturday in the opener of a day-night doubleheader, sending the NL East champions to their seventh straight loss.

Cole Hamels pitched seven sharp innings in a playoff tuneup for the Phillies, allowing only a pinch-hit homer by Valentino Pascucci that tied the score in the seventh. The left-hander, 3-10 in 17 starts against the Mets, yielded four hits and struck out seven.

The Phillies already wrapped up home-field advantage throughout the postseason - and they're playing as though they have little motivation left until October. Winless since clinching its fifth straight division title last Saturday, Philadelphia is in the midst of its longest losing streak since a seven-game skid in June 2006.

After a rainout Friday night, the Phillies were playing their third doubleheader in 10 days. The wet weather Friday gave them their first day off since Aug. 28, when they were rained out due to Hurricane Irene.

Shane Victorino doubled with one out in the seventh for Philadelphia's first hit, snapping an 0-for-20 skid. He scored when Ryan Howard followed with a single.

The Mets have never thrown a no-hitter. Born in 1962, they are closing in on 50 full seasons without one.

Bobby Parnell (4-6) retired Placido Polanco on a grounder with two on to end the eighth. Manny Acosta got three outs for his third save. Philadelphia had two on when Carlos Ruiz flied out to end it.

Ruben Tejada singled with one out in the eighth off Brad Lidge (0-2) and stole second before Wright hit a grounder inside third base.

New York rookie Dillon Gee was scheduled to start the 7:10 p.m. nightcap against Joe Blanton, with the Phillies planning to use their bullpen extensively.

Hamels, trying to match a career high with his 15th win, let the 1-0 lead slip away when Pascucci went deep with two outs in the seventh for his first major league home run since Oct. 2, 2004, with the Montreal Expos at Shea Stadium off Mets lefty Al Leiter.

Dickey retired his first 15 batters before walking Ruiz to start the sixth - which led to some confusion.

Ruiz trotted to first base on ball four, but the scoreboard had the count at 3-2 and apparently so did plate umpire John Hirschbeck. He signaled for Ruiz to come back, but the catcher protested and then waited halfway between home and first as the umpires huddled.

After a group discussion, they correctly awarded Ruiz first base on the walk.

With two outs and Ruiz on second, Jimmy Rollins hit a deep drive that sent inexperienced right fielder Nick Evans back to the warning track. Evans, who began the game at first base, got turned around and tumbled to the dirt as he made a tough catch that kept the game scoreless.

That drew cheers from the crowd of 33,961, which got more excited when shortstop Jose Reyes turned in a nice play for the first out of the seventh. Victorino, however, laced a double into the left-field corner, prompting a warm ovation for Dickey, and
then Howard hit an RBI single to center.

Raul Ibanez singled for Philadelphia's third straight hit, but Dickey got out of the inning when John Mayberry Jr. grounded into a double play. The 36-year-old knuckleballer was pulled for a pinch-hitter in the bottom half. He struck out four and walked one in a game that took 2 hours, 27 minutes.

Dickey has been on a roll for two months, putting together a career-best 12 straight quality starts. Hurt by a lack of run support, however, he is 4-5 in those outings.

On Aug. 13 last season, Hamels had the only hit in the sixth inning of a one-hitter by Dickey in a 1-0 victory over the Phillies.
---
Fan, follow and download: Get the latest from NBCPhiladelphia.com anytime, anywhere. Follow Hurricane Schwartz on Twitter, the NBC10 Earthwatch on Facebook and on our mobile site. Sign up for our weather newsletter. And, get weather forecasts delivered right to your mobile phone -- just text PHIWEATHER to 639710 to sign up. (Message and data rates may apply.)