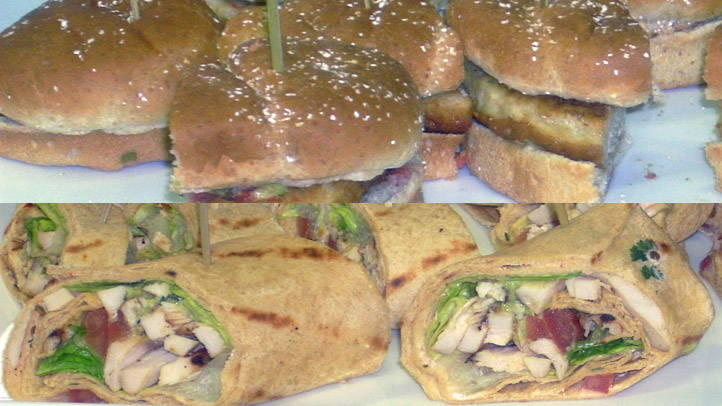 The Phillies made a complete 360 with this season's ballpark cuisine battle.
Last season the Phightins and Aramark asked fans to pick their favorite hot dog.
The South Philly Dog was top dog as fans clamored for the all-beef wiener with spicy red peppers, sharp provolone and broccoli rabe.
This year you won't find hot dogs on the fan ballot but rather a "New Healthy Sandwich."
That's right, the folks at CBP have gone "healthy" for this season's fan fare choice as fans can pick between the Grilled Chipotle Chicken Wrap featuring grilled chicken, avocado, tomato, romaine lettuce, cilantro and low-fat yogurt on a whole wheat wrap and the Char-grilled Turkey Burger featuring a seasoned turkey patty with sliced avocado and CBP-made tomato salsa on a multi-grain whole wheat roll.
Citizens Bank Park head chef Glen Richmond explained the healthy tilt.
"It all depends on what fans are asking for," he said.
And what they are asking for according to CBP food supplier Aramark is more healthy options. So this season there will be a brand new Philly Fresh Stand featuring healthier foods like salads, whole-grain pretzels, trail mix and sugar-free Tastykakes.
Interestingly enough the PFS is set up right by the artery-clogging Schmitter stand, Richmond said.
Voting for the healthy sandwich opens Opening Day (April 1) at www.phillies.com/sandwich (right now the link doesn't do anything more than send you to Phillies.com) and will continue through the end of June so fans should have plenty of time to try both new sandwiches.