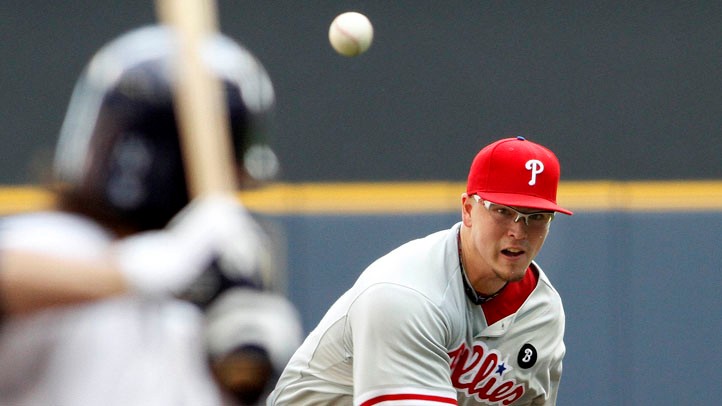 Vance Worley seemed unstoppable having not lost since May, but alas all good things must come to the end.
Nyjer Morgan slid into second and let out a mighty roar of relief after a long, frustrating series. Ryan Braun singled in the go-ahead run in the seventh after Morgan's tying hit and the slumping Brewers rallied for a much-needed 3-2 victory over the Phillies on Sunday that snapped their skid at five.
"We realize we can play with them," Brewers right fielder Corey Hart said. "It'll prepare us for later on."
Trailing 2-1, Milwaukee strung together three consecutive hits off Worley (11-2) with two out in the seventh to keep its dwindling NL Central lead at six with 14 games left. Second-place St. Louis also won, beating Atlanta 6-3.
Brewers starter Yovani Gallardo (16-10) matched a career high with 12 strikeouts over seven innings, but allowed homers to Shane Victorino and Ryan Howard in the sixth.
"They have a tough team, we all know that," Gallardo said.
The Phightins stranded runners at the corners in the eighth when Howard grounded out against Francisco Rodriguez.
John Axford allowed a one-out single by Pete Orr and a two-out walk to Michael Martinez before John Bowker popped out weakly. Axford has converted 39 consecutive save opportunities and is 42 for 44 overall.
The Phils had won six straight and were on an even bigger roll when Vance Worley (11-2) was on the mound. The Phillies had won Worley's last 14 starts dating to May 29, one short of the franchise record set when Steve Carlton was on the mound in 1972.
"It was fantastic. What all do I need to say about it? It's like heck man, he did a hell of a job," Phillies manager Charlie Manuel said. "Can't say enough about him."
The Phillies could have clinched a playoff spot with a win and a St. Louis loss. The major league-leading Phillies (94-49) remain 12 games ahead of Atlanta in the NL East and could wrap up their fifth straight division title as soon as Wednesday.
The Brewers entered last week with a 10 1/2-game lead over St. Louis. Milwaukee plays no one with a winning record the rest of the year beginning on Tuesday against Colorado.
You're not going to play anybody tougher than the Phillies," Braun said. "I think this is the best team in the National League and the best team in baseball, and has been all year."
Worley worked around runners in scoring position in the first, third and fifth innings before the Brewers finally broke through against him in the seventh and held on from there.
"It's a good test. But when playoff time comes and October rolls around you throw all this out the door," Victorino said. "I don't think it's going to dictate what happens in October."
Copyright AP - Associated Press