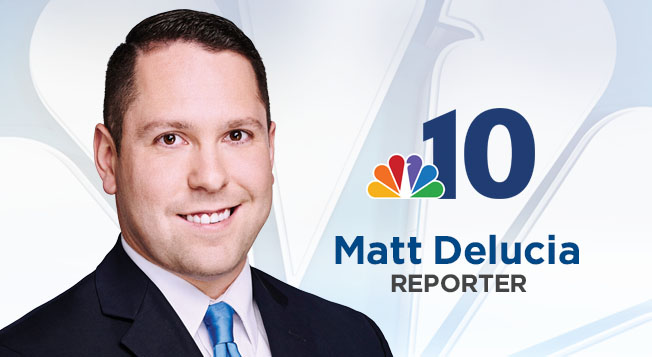 Matt DeLucia is a reporter for NBC10 News Today. You can watch his live reports weekday mornings from 4:30 AM to 7:00 AM.
Matt is extremely dedicated to his craft and loves having the opportunity to report to viewers first thing when they wake up in the morning.
"You need to have a certain passion for news when your alarm is set for 2 a.m. every weekday morning," he said.
Matt joined NBC10 News Today in 2013. Prior to that, Matt was a reporter and anchor at KVVU in Las Vegas, Nevada. Earlier, Matt was a reporter at WSHM in Springfield, Massachusetts, and WBOC in Salisbury, Maryland.
Matt is a 11-time Emmy award recipient, and was part of the Edward R. Murrow award-winning coverage of the Amtrak 188 derailment in the Port Richmond neighborhood of Philadelphia. He has been honored by the state of Pennsylvania for consumer reporting. The Associated Press Television and Radio Association named Matt 'Reporter of the Year' while at KVVU in 2012. There, he covered several high profile stories, including the O.J. Simpson Las Vegas robbery case.
Matt grew up in Cherry Hill, N.J. He is a graduate of Camden Catholic High School, and earned his degree in Communication from La Salle University. He also holds a meteorology certificate from Penn State.
"It's been a long journey from reading the morning announcements in high school to where I am today," Matt said. He is often called on to speak to journalism classes, and he enjoys helping students start their own path.
While at La Salle, Matt was offered a unique on-air apprenticeship at New Jersey Network, working as a labor beat reporter. He was also a production assistant with NBC at the 2006 Olympic Games in Torino, Italy.
Matt currently lives in Philadelphia. When he's not working or catching up on sleep, Matt enjoys traveling the world, lounging on the beach, and being a self-proclaimed foodie.
Follow Matt!
Facebook- @mattdelucianews
Instagram- @matt.delucia
Twitter - @MattDeLucia