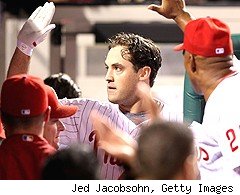 "Pat the Bat" is back. At least for a day.
Pat Burrell, the number one overall draft pick in the 1998 MLB Draft, will sign a one-day minor league contract with the Phillies on May 19 by throwing a ceremonial first pitch when the Red Sox come to town, the team announced .
Burrell, who ranks fourth in club history in home runs (251), eight in RBI (827) and ninth in extra-base hits (518), played nine seasons with the Phillies, a run that ended with the 2008 World Championship and a ride down Broad Street with Elvis, his bulldog.
Burrell turned 35 last October and spent the final three seasons of his career with the Tampa Bay Rays and San Franciso Giants, where he won another World Series in 2010.