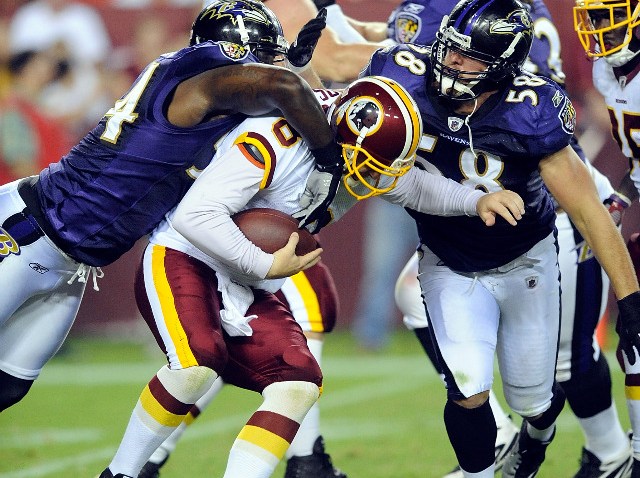 Every week during the season, we'll scout out the Eagles next opponent. This week, that opponent is the Washington Redskins.

The Opponent: The Washington Redskins, aka the Skins, aka official harassing spot for the Dead Tree Crew

Record: 4-4

The Line: Eagles by 3. The dreaded road favorite tag. And it comes against a team that already beat Philly this year! Bad portents, these.

Last Game: That bizarre 37-25 loss to Detroit right before the bye week. You know all the particulars by now, with Mike Shanahan yanking Donovan McNabb with under two minutes left in favor of Rex Grossman. I still find this hilarious, even two weeks later.

The Coach: Mike Shanahan. DC folks don't seem too pleased with Shanny's autocratic ways. Hmm. Who would have guessed that Mike Shanahan was a powermad control freak determined to keep the world under his thumb?

The Offense: Where to begin? There's no guarantee that McNabb won't get pulled a second time in two games, a double indignity given that he's playing against his old team. You know what annoys me? Whenever media people go out of their way to call McNabb a "class act." Do you know what the media really means when they call someone a class act? They mean that the player in question is actually willing to give them the time of day on occasion. It has NOTHING to do with actual classiness, and everything to do with someone being nice to Mike Wilbon.

The receivers are horrible, especially Anthony Armstrong, who makes Troy Williamson look like Captain Soft Hands. Ryan Torain got knocked out of the Lions game but appears fit to play this week. Not that his o-line will give him much to work with.

The Defense: The Skins have a DPOY candidate in LaRon Landry (even though he still can't cover). And while Al Haynesworth has been a turd for most of this year, he's quietly rounded into game shape and has definitely made his presence felt along the d-line in recent weeks. Defensive coordinator Jim Haslett likes himself some blitzing. Michael Vick can really make you pay for that sort of thing. The Skins better hope they sack Vick eight times. Because if they don't… uh oh.

Key Matchup: Vick's ribs versus the Redskins defense. When Vick got hurt in the first meeting with Washington, it completely changed the whole complexion of the game. If he manages to protect himself this go round, things will most certainly be different.