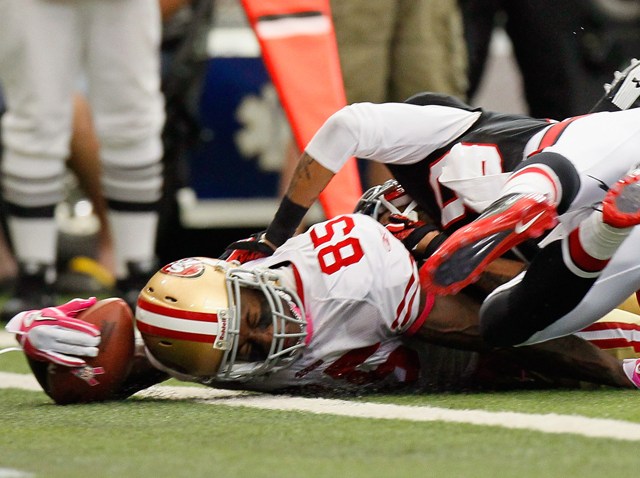 Every week during the season, we'll scout out the Eagles next opponent. This week, that opponent is the San Francisco 49ers.

The Opponent: The San Francisco 49ers, a.k.a. the Santa Clara 49ers, a.k.a. Denise York's Nest Egg

Record: 0-4

The Line: Niners by 3. Nothing beats being an underdog against a truly bad team. Precisely what you want.

Last Game: A brutal 16-14 loss in Atlanta that would have been the Niners' first win if only Nate Clements hadn't pulled a Leon Lett and been stripped of the ball by Roddy White on his potential game-winning interception. That fumble allowed Matt Ryan to drive right back down the field for the winning field goal, thereby extending the misery for a San Fran team was predicted by many to win its horrible, horrible division.

The Coach: Mike Singletary, who is very good at giving speeches and pulling his pants down and staring at people intensely. All the other stuff coaches have to do? Well, he sucks at that stuff.

The Offense: Say hello to Alex Smith and his tiny little hands, which were hand crafted by some of the finest puppeteers in the Czech Republic. Smith will have a good game on occasion, but he'll never be consistent enough to amount to anything in the NFL. Michael Crabtree is apparently still conducting his rookie year holdout. The only people you need to fear from this offense are Frank Gore and Vernon Davis. And OL' WESTY!

The Defense: Patrick Willis and not much else. I know Kevin Kolb was thrown into a rough spot last week. But if he goes out to San Francisco Sunday Night with a full week of practice and still turns into Checkdown Sally, I think you are more than free to throw batteries at him when he comes back to town. He and Alex Smith may have more in common than you'd ever possibly want.

Key Matchup: Stew Bradley vs. Davis. The Eagles played quite well on defense last week, and Bradley's return was certainly a factor. Now he'll be counted on to jam up Davis and keep him from running wild. Please don't get injured again, Stew. That would be bad.