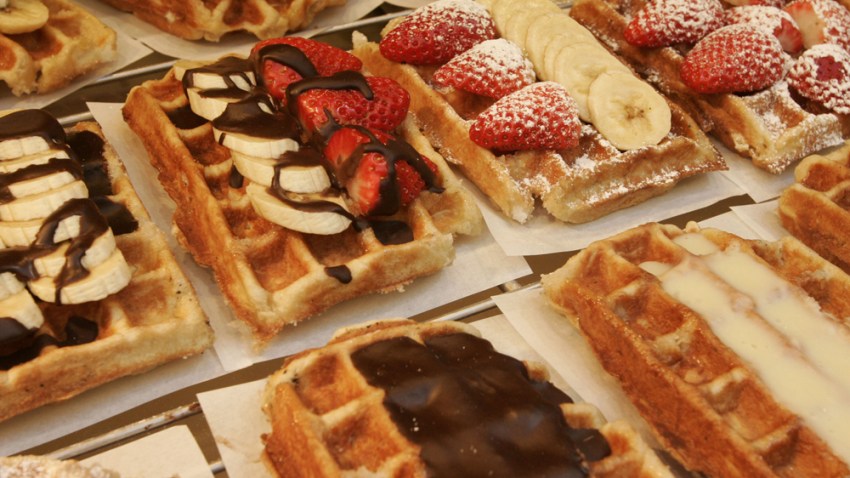 Whether you stayed up straight through the night 'til 2009, or you're looking for somewhere to dine after the Mummers strut, one of our five favorite brunch spots will satisfy your cravings.

Honey's Sit and Eat
800 N. 4th St.
Didn't get enough Hanukkah last week? Kick off 2009 with brunch at Northern Liberties' finest Southern-Jewish diner, Honey's Sit'n'Eat. Here, you can quell your hangover with challah French toast, latkes or any of a number of hearty omelets. Or, you know, just stop by the Foodery first so you can rock it hair 'o the dog style—Honey's, a breakfast joint though it may be, is a BYO.

The Fountain at the Four Seasons
One Logan Square
Consistently rated one of the best (if not the best) brunch spots in town, the Fountain will host a $68 prix fix brunch event in its Swann Lounge and Swann Café New Year's Day, beginning at 11:30 a.m. Yeah, $68 is pricy for a midday meal. But if ever there was a time to splurge, it's 1/1. And this is the place at which to do it.

Sabrina's Café
910 Christian St. and 1804 Callowhill St.
Both locations of Mmm-worthy Sabrina's will open bright and early New Year's Day at 8 a.m. The bread is all Le Bus, the eggs are served up perfectly any way you choose and if you have not yet sampled Sabrina's stuffed French toast must do so immediately. This menu is so good, you'll forget 2008 after your first bite.

Morning Glory Diner
735 S. 10th St.
The menu here is simple and to-the-point: waffles (served plain, with berries or with pecans); pancakes (or "glory cakes," as they're known here) with chocolate chips or fresh fruit; and any of a variety of perfectly fluffy egg dishes. Sometimes, simplicity is best. And the day after a night full of revelry—as long as there's coffee—might just be that time.

Beau Monde
624 S. 6th St.
Philly's finest creperie will kick off '09 at noon with a half-dozen specials—think jumbo shrimp, grilled onions and lots of other delectable French faire. We recommend going a la carte for your savory crepe and then splitting one of Beau Monde's unbelievably delicious dessert crepes with your fellow diners. Or, you know, maybe splitting a couple. Here's to a sweet 2009.