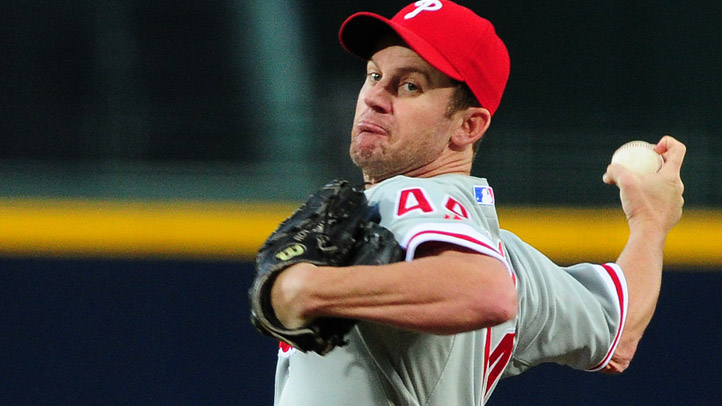 Without question, the biggest strength of the 2011 Philadelphia Phillies was their starting pitching. They came into the season with their four aces, and they ended up being about as good as everyone expected they would be, despite a few bumps and bruises along the way.

The 2012 version of the Phillies figures to be configured in a similar fashion, with strong pitching being buoyed by enough offense and a study bullpen.

It just might have to be done without Roy Oswalt.

The 34-year-old right hander, coming off an injury-plagued 2011 season, had his $16 million team option declined by the Phillies, making him a free agent for the first time in his career. And while there were some rumors that the veteran would hang up his cleats, it appears that he is willing to push on and take the mound in 2012.

But if his agent is to be believed, it seems like Oswalt might want to play a bit longer than that, according to Fox Sports' Jon Morosi:
"His back feels great," Bob Garber told FOXSports.com. "He's definitely looking for a long-term contract."


What does this mean for the Phillies? At this point, probably nothing. Given Oswalt's injury history, his age, and the fact that he is going to be picky in terms of who he wants to play for, it is going to severely limit the number of teams lining up to pay for his services.

And it's not like his agent's comments should be taken at face value. After all, he wouldn't be doing his job if he proclaimed that his client would settle for a one-year deal worth peanuts, so it's not like anyone should take his words literally.

But if Oswalt was seeking a long-term contract, and that's not terribly unlikely, that doesn't necessarily mean that the 32-year-old has tossed his last pitch in a Phillies uniform, because they are the same team that offered a 46-year-old Jamie Moyer a two-year extension after the 2008 season. If the offer is right, then there is absolutely a chance for a Phillies-Oswalt reunion next season.

With the free agent period among us as of Thursday morning, it's just a matter of time before the 2012 fate of Roy Oswalt – and with it, The Four Aces – is revealed.