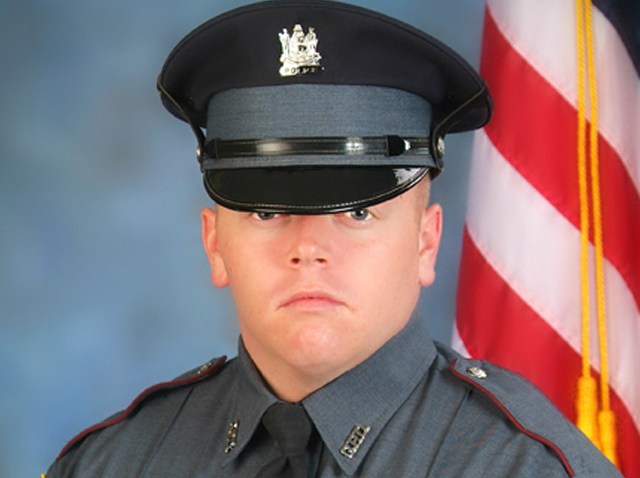 Murder charges were filed Wednesday against one of three suspects in the shooting of two police officers late Tuesday in Delaware.

Georgetown police patrolman Chad Spicer died from his injuries. His partner, Cpl. Shawn Brittingham is hospitalized in stable condition.

The two were shot while trying to apprehend three men suspected of firing shots at a McDonald's restaurant on Route 113 in Sussex County, according to Delaware State Police.

Spicer and Brittingham chased the car the men were in for about 10 blocks. The car stopped, the suspects got out to flee on foot. That's when the officers were shot. Patrolman Spicer never even had a chance to get out of his car, according to Delaware State Police. He was shot in the face and Cpl. Brittingham was hit in the neck by the same bullet as he stepped out of the cruiser. Neither officer returned fire, Delaware State Police Cpl. Bruce Harris said Wednesday.

Both officers were rushed to Beebe Medical Center in Lewes, Del. Spicer died there from his injuries. Brittingham was upgraded from critical to stable condition Wednesday morning.

"This is something that hits home," said Harris. "A lot of people are grieving and trying to do their jobs as best they can."

Spicer is the first Georgetown Police officer to be killed in the line of duty. "This is another demonstration that life is valuable and fragile and what we do is a dangerous job," Georgetown Police Chief William Topping told DelMarvaNow.

Derrick J. Powell of Maryland is one of two suspects police took into custody shortly after the shooting. He broke into a nearby home in an effort to hide from authorities, police said. He's from Cumberland, Maryland and is charged with 1st degree murder.

The second suspect was taken into custody, but later released after questioning. He has not been charged. Investigators say he may not have been directly involved in the shootings.

A third suspect, Christopher Reeves of Lincoln, Del. is on the run. Police consider him armed and dangerous. Anyone with information can call Delaware Crime Stoppers at 1-800-TIP-3333 and remain anonymous or submit information online.
Funeral arrangements for Spicer could be announced on Thursday. A trust fund has been set up for Patrolman Spicer's three-year old daughter Aubrey. You can make a donation at any Wilmington Trust Bank or mailing a gift to the address below.
Aubrey Spicer Trust
c/o Norman Spicer
Wilmington Trust Bank
139 South State Street
Dover, DE 19901

Get More: DelMarvaNow, Sussex Countian
Copyright AP - Associated Press