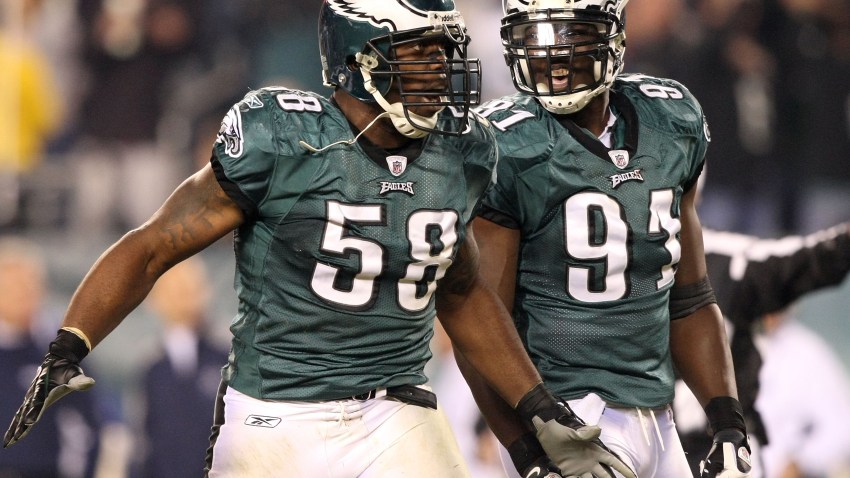 This is the sixth in a series of posts breaking down the Eagles position by position in advance of the upcoming draft and (hopefully) free agency. We've already looked at quarterback, running back, wide receiver, tight end, and offensive line. Today we'll examine the defensive line.
2010 Recap: At defensive end, last season was all about the injuries. Only Trent Cole had another normal, star season at defensive end — where he posted 10 sacks and 55 hurries. Former second round pick Victor Abiamiri missed the entire season after undergoing micro-fracture surgery. The Eagles fifth round selection in 2010, Ricky Sapp, was also lost for the year after arthroscopic knee surgery. Brandon Graham, the defensive end that the Eagles traded up in the draft to get, showed some early promise. He started six games, compiled three sacks, and on a per pass rush basis, was actually one of the most effective defensive linemen in the NFC East. However, Graham was also bit by the injury bug, succumbing to a torn ACL in Week 14.
Veteran Juqua Parker shared playing time with Graham for most of the season and although he's never been a star, Parker began to show some liability, especially against mobile quarterbacks like Minnesota's Joe Webb. Darryl Tapp, who the Eagles traded for in the off-season, contributed four sacks as a rotational player. Another rookie, Daniel Te'o-Nesheim did little to justify his third round selection. Finally there were the host of other names that came in and out during the year: Antwan Barnes, Derrick Burgess, and Bobby McCray.

At defensive tackle, the longtime starters Mike Patterson and Broderick Bunkley were finally pushed. Patterson started the whole year, with his typically solid run defense and lackluster pass rush. But Bunkley, after missing two games with an elbow injury, lost his starting spot to Antonio Dixon, a player the Eagles claimed on waivers after he went undrafted in 2009. Dixon, 6'3" 325 lbs, is the biggest Eagles tackle and perhaps the most explosive off the ball. Trevor Laws, who looked like a bust a year ago, resurrected his career somewhat as a solid inside pass rusher. Finally, 2010 7th round selection Jeff Owens spent most of the year on the practice squad only to be called up in Week 16 and promptly rupture his left patellar tendon.
Who's Leaving: McCray's a free agent. DT Jeremy Clark, another late season pick up, will compete but is a long shot. Through an odd loophole of the Physically Unable to Perform list, Abiamiri's 2011 free agency was delayed a year — meaning he'll get one more chance to show what he's got.
2011 Depth Chart: Cole and Parker are probably the starters at defensive end, assuming it takes Graham more than six months to recover from ACL surgery. Tapp, Te'o-Nesheim, Sapp, Abiamiri, and Canadian Football League star Philip Hunt (16 sacks in 2010) will compete for the backup spots, and one or more will probably end up on the outside looking in. Seems like there should be open competition at tackle, where the scheme set up by new defensive line coach Jim Washburn will have a big impact on who starts, and who potentially become trade bait. Not even sure I can handicap that race right now.
Potential Additions: Some fans have talked about bringing back DE Jason Babin, who had 12.5 sacks last year working with Washburn. I doubt the Eagles will be the highest bidder for his services. I also don't expect the Eagles to trade for Washington malcontent Albert Haynesworth, despite his immense talent. If the team does want to add veteran talent, Vikings end Ray Edwards would be a potential target.
The defensive line is considered a strong area of this year's draft. Players like Purdue's Ryan Kerrigan could get a long look in the first round.
Future Outlook: The future depends a great deal on Washburn's new philosophy and who fits into his system. But certainly Graham's injury deals a big set back to the Eagles plans at defensive line. The team will need other young, talented defensive ends to ensure an acceptable transfer into the post-Cole era.