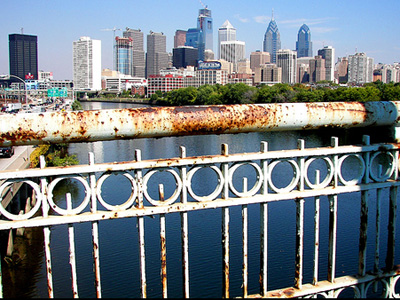 Commuters Beware! If you use the South Street Bridge to get into or out of University City, get ready to detour your plans starting Monday.

The City of Philadelphia is undertaking a two-year, $67 million demolition and reconstruction project to completely replace the current structure.

At 9:30 am on Monday, the bridge will close until a brand-new, more pedestrian-friendly bridge makes its debut in 2010.
But, before the closure at 9:30 am, you can take one last bike ride over the bridge at 9:15 am along with Bike Share Philadelphia and the South Street Bridge Coalition. Bike Share Philadelphia will borrow a bike from another city's Public Use Bicycle and take that last journey. The idea is that, in 2010, one of Philadelphia's Public Use Bicycles will take that first journey over the New South Street Bridge.

The 85-year-old South Street bridge has been literally crumbling around its users for years as the city deferred maintenance on the crossing.

"The South Street Bridge is a poster child for what happens when we do not invest in our cities and in our infrastructure," Mayor Michael Nutter said when the reconstruction project was announced in November.

A city budget crisis will not halt this project though, as the city will only be footing 5 percent of the bill. The federal government will pay for 80 percent and the state will take on 15 percent.

"This project represents an important partnership between the federal, state and city governments and is much needed investment in Philadelphia's infrastructure," Streets Commissioner Clarena Tolson said earlier this month.

About 23,000 vehicles cross the bridge each day. These drivers must find alternate routes.

There will be no access to South Street between 27th Street and Convention Ave. during the project. This closure includes entrances and exits on I-76, all roadways and pedestrian sidewalks.

Bikers, drivers and walkers who use the bridge will need to use alternate routes to cross the Schuylkill River will be the Walnut Street or Chestnut Street bridges.

The new structure will be the third South Street Bridge to span the Schuylkill. The first bridge was built in 1876. It was then demolished and the current structure was opened in 1923.

For more information on the bridge reconstruction, visit the project's website.
To map out your detour, click on the colored lines in the map below:
View Larger Map