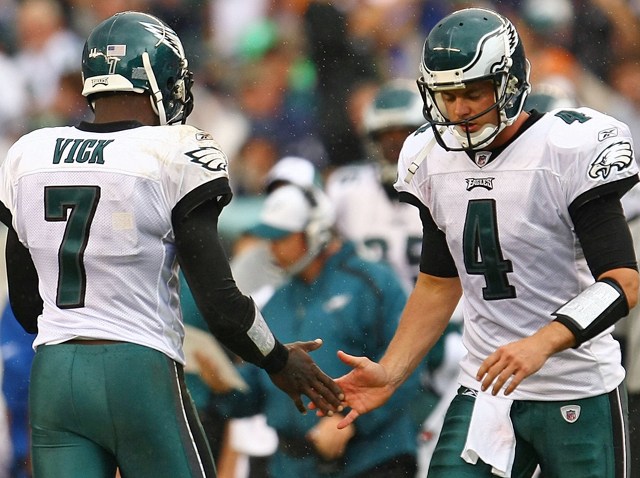 Earlier this year, Eagles coach Andy Reid declared Kevin Kolb his starter. Then Kolb got hurt, and Mike Vick came in and set the world on fire, and Andy Reid said Kolb was still the starter no matter what.
Then three days later he said VICK was the starter no matter what.
Then Vick got hurt and Andy Reid said that, regardless of how well Kolb played, Vick was still the starter no matter what.
And Kolb has played extremely well, so much so that you may as well flip a coin to figure out who should start for the Eagles right now.

Reid maintains his "Vick as starter" stance, but yesterday Vick practiced in full for the first time since being hurt.
Philadelphia Eagles quarterback Michael Vick was a full participant in practice Thursday for the first time since he fractured rib cartilage in Week 4.

Vick participated in all team activities Thursday, one day after Eagles coach Andy Reid announced that Kevin Kolb would start in the Week 7 game against the Tennessee Titans.
If it were Ryan Fitzpatrick backing up Vick, I can guarantee you Vick would be out there against the Titans on Sunday. Reid has the luxury of having two capable QB's on his roster, which means he can wait a week to help Vick get closer to 100%.
But, somewhere in the back of his head, I have to think Reid is also glad to use the injury as an excuse to keep riding the hot hand.

The question is, if Kolb crushes the Titans, will Reid keep Vick on the shelf "to heal" while letting Kolb stay in the lineup?
This is one of those rare NFL situations in which there's no right way to handle the situation. Seriously, what do you do when you have two very good QB's of seemingly equal (though differing) abilities like this? Do you just blindly pick one and hope for the best? Do you pick Kolb because he's signed for more years? Do you work out a platoon situation? Do you alternate them between games? No one option is clearly better than the other.

Reid has already flip-flopped once this year on his QB situation. I'm sure he doesn't like having to do it, but surely he's tempted to keep Kolb in there for now and see how it plays out. He could have thrown Mike Vick in there this week. If he was that dedicated to keeping Vick the starter, he would have done so. But I have to think that Kolb's play makes Vick's hold on the position more and more tenuous each week.
Don't be surprised if Andy flips back to Kolb permanently in the coming weeks, or says Vick has had a double secret relapse.