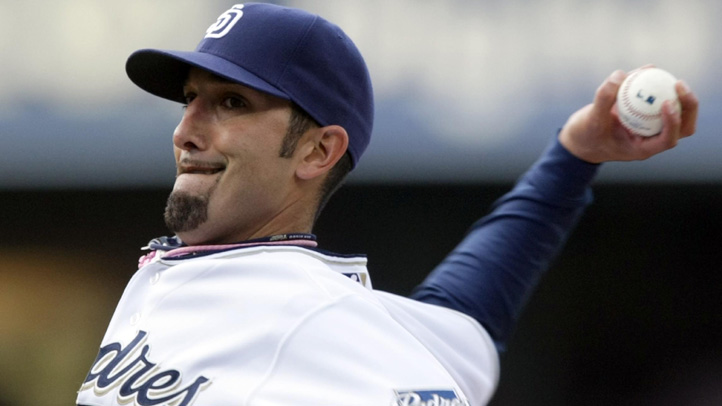 Now that we're past the All-Star break, we can start getting down to the serious business of the Phillies vying for a division title and a World Series ring. And as fall nears and everything gathers in intensity, so, too, do the trade rumors -- those little bits of information that tantalize you with the idea that your team will lock the exact right player you need. The players that will help the team become MAGNATEAM: Destroyers of the Universe, a team that is virtually impervious to the standard statistical flukiness of the postseason, one that can't possibly end up losing the title.

For the past few weeks, Phillies fans have sat by as the team has been subject to a number of these rumors, most of them involving ways for the team to upgrade their lineup. But now, bullpen help is also being factored in as the rumors multiply, with SB Nation noting that both Philly and the Braves could be looking at Padres reliever Mike Adams, along with Astros outfielder Hunter Pence. And that luxury tax that the Phillies were supposedly trying to avoid? FOX's Ken Rosenthal says that's still a factor in these scenarios. He got this excellent quote from of the team's rival GMs:
"Hey look at their model -- if they don't keep their foot on the pedal, it might go away," one GM says. "They've got a full house every night. They don't want the spigot to get turned off. There is always that question -- do you have the discipline to say, 'This is our team?'"
That's the real crux of the matter. It's easy to look at a team like the 2004 Red Sox and see the mid-season moves they made and say to yourself, THIS is how you should prepare for the stretch run. But the truth is, no team is ever 100-percent perfect as is, and the real question is do you want to mess with a team that is not perfect, but is clearly championship material? Or are you messing with some sort of precious player chemistry ecosystem that can shatter with just the smallest of roster changes? Maybe the Phils could use Carlos Beltran. Or maybe, just maybe, that's one more big name on a team that perhaps has reached its capacity for big names. Maybe that would ruin everything.

Ruben Amaro is a tinkerer. At some point, maybe you need to stop tinkering. The deadline looms.