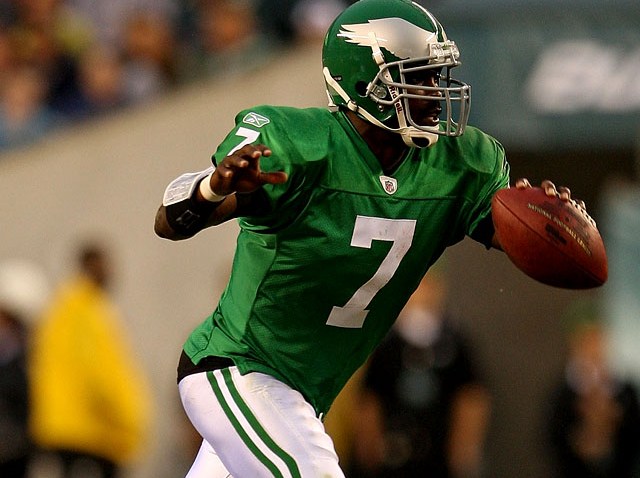 Eagles head coach Andy Reid has made it official that Michael Vick will start at quarterback for the concussed Kevin Kolb when the Eagles play Sunday at the Detroit Lions.

"Michael is excited to step up and play," Reid announced Friday afternoon.
Coming off coming off Vick's brilliant performance against Green Bay, in which the offense came alive in his hands (and feet), we're pretty much equally excited to see it. We certainly haven't felt the same way about Kevin Kolb, who's so far been as much a note, hope, and a thud in performance as he is in pronunciation.
It's an interesting situation for the Eagles, and it's going to be an exercise in common sense for fans. Everyone knows if Vick tears it up this week and possibly next, the team will officially have a conundrum on their hands. And he ought to tear it up: while the Eagles can't look past the Lions, they're not exactly the NFL's best defense.
Barring a grotesque self-destruction, Vick's probably going to put up some really impressive numbers, and there'll be a growing dazzled number ready to crown him the post-McNabb McNabb.
Thing is, though, he's still Michael Vick. The Packers may have been caught unprepared for a whole half of chasing him down, but that's not going to happen again. The NFL still has their old Atlanta spy packages filed away somwhere, and we'll get our first glimpse of that when the Lions fail trying.
He'll be good in Detroit, and we'll all want more. It won't be wrong, but nor will it erase the question of whether Vick is functionally accurate enough for the Eagles' playbook. We learned on Sunday he's still impatient, too. If Vick can't control his impulses when handed a Detroit secondary ripe for the picking apart in the air, he likely never will.
Vick may prove better than Kevin Kolb, and that would make him an incredible story. The challenge, though, is in realistic expectations, and the danger is taking last Sunday's performance and projecting it onto a man who hasn't even started a game since 2006, much less proved able to conquer his limitations last time he was a different franchise's savior.
Copyright AP - Associated Press