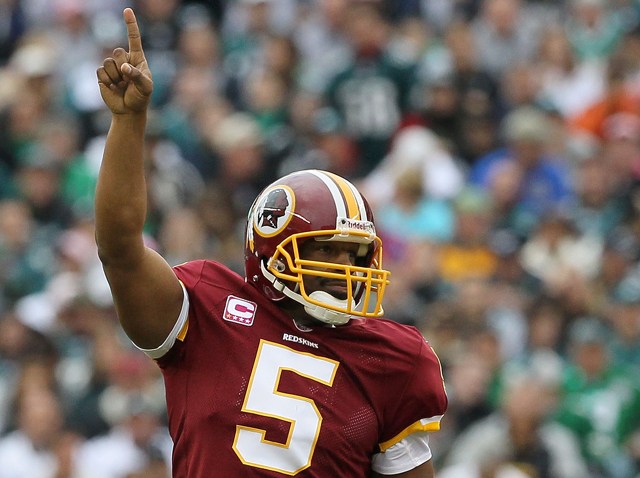 Say what you will about Donovan McNabb -- and you've certainly never stopped -- the man does say all the right things.
In the afterglow (aftergloat?) of defeating the team that "fired" him after 11 years and six NFC championship games, McNabb stopped to pen a Yard Barker thank you to the Philly fans who gave him a standing ovation as he took the field at the Linc on Sunday afternoon.
I hope that everyone has an opportunity in their lifetime to experience what I did Sunday because words can hardly describe it.

It's no secret I went home again....and was greeted with an ovation that was overwhelming. Philadelphia - you gave me chills during that pregame introduction. I know many people didn't know what to expect but I knew there were many fans I met over my 11 seasons who expressed nothing but positive feelings towards me. Previously, they may have been considered the silent majority but Sunday they made their feeling heard - loudly. I sincerely appreciate that support.
I'd suggest Philly fans feel terrible for booing him mere minutes later -- when he began to play -- but perhaps you're all too worried about the possibility of a Jeff Garcia return to spare McNabb one last thought. It's understandable. That man looks like a sweet potato.
But as much as McNabb said the game wasn't about him (and as much as it wasn't, because he really didn't play all that well), it was clear that he truly felt like anyone would: anxious about his reception, and anxious to prove the Eagles wrong for rejecting him.
He didn't quite accomplish the latter -- Mike Vick's ribs and Kevin Kolb did all the work -- but it didn't diminish the power of winning. In his post-game locker room speech, McNabb addressed his return with one telling line wedged into a speech about team:
"Everybody makes mistakes in their lifetime, and [the Eagles] made one last year...so thank you [for the win]."
The Eagles' "mistake" may be debatable, of course, but it's easy enough to believe McNabb's gratitude for the standing O is anything but.