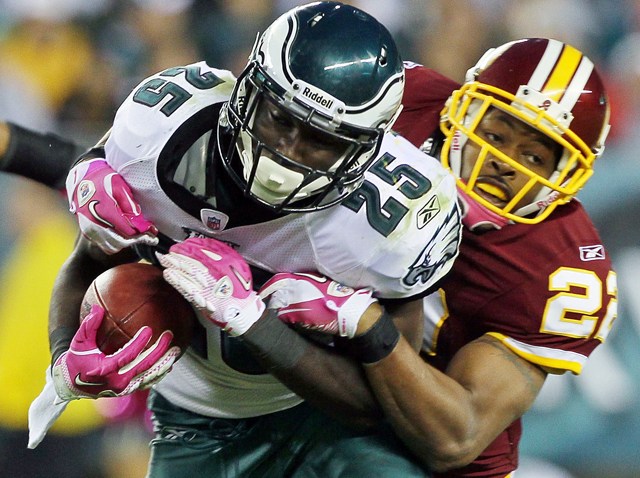 Michael Vick isn't the only Eagles weapon battling injured ribs -- it turns out LeSean McCoy broke a rib Sunday against the Redskins.
Vick has a rib cartilage injury high in his rib cage and luckily no broken bones.
Everyone knew that Vick was hurt and he missed the last three quarters but McCoy only left the McNabb Bowl for a few plays after what appeared to be a knee injury. So when did Shady bust his rib?
"Actually, it was in the first half, second quarter," coach Andy Reid said Monday. "So, he played through it and really didn't complain at all. He's a pretty tough kid."
Tough? You don't say!
He not only played through a busted rib but McCoy racked up six catches alone during the Eagles fourth-quarter scoring drive -- getting hit every time. In total he racked up 64 rushing yards on 16 attempts and 110 receiving yards on 12 grabs despite not being 100 percent.
Really the only knock on McCoy's Sunday was that he fumbled -- but knowing now that he had a broken rib at the time -- Eagles fans should give him a pass.
Unfortunately McCoy's valiant effort came up short in the Eagles 17-12 loss to Donovan McNabb's squad.
So will Shady and Vick soar when the Eagles face the 49ers in San Fran Sunday night?
"Well, we'll just see how he feels," Reid said about Vick. "This is going to be one of those day-to-day, week-to-week [injuries]. We'll just see how it goes and how he feels along the way."
As for Shady?
"We just have to see. We have to see. Really it's a comfort thing and they're doing a couple of other tests on him to make sure he's okay there."
Add in the "mild" concussions suffered by wideout Riley Cooper and Corner Asante Samuel and the Eagles could be looking for some roster depth going into this weekend. Reid didn't rule out the possibility of bringing in a player or two.
A possible target to get some running back depth could be Buffalo's Marshawn Lynch. But the Bills plan on holding onto Lynch past the Oct. 19 trade deadline, reported ESPN's Adam Schefter.
As for the QB -- it's looking like Kevin Kolb will be taking snaps Sunday night. How he will do remains to be seen but after Sunday fans are expecting much.