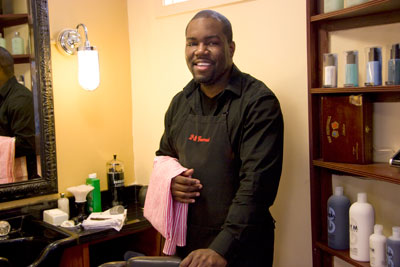 Philly barbershop, 2B Groomed, got some national recognition from an unlikely source.
The barbershop that mixes early 20th century style with modern chic, was listed as No. 5 on Playboy magazine's Top-10 barbershops in America.
Jahmal Rhaney's barbershop was praised for its creativity, hospitality and elegance in a feature called "A Cut Above: Playboy's Ultimate Real Man's Guide to Grooming 2010."
Rhaney's shop was recognized in part for its breadth of atmosphere and a contagious professionalism as well as an impressive clientele. Local celebrities and sports figures frequent the Center City shop, which is decked out in marble counter tops and cherrywood furniture.
The key to his studio's success is in its methodical, delicate and almost "surgical approach" to the art of shaving, said Rhaney. He also cited his barbershop's customer-centric outlook.
To ensure that clients look great the shop focuses not only on hair but improved shaving techniques including a variety of shaving options and beard coloring.
And, no cut is complete without a complimentary shoe buffing to boot.
Getting some dap is nothing new for 2B Groomed. The shop was heralded in many local reviews including Best of Philly and Philadelphia Magazine. It also won the City Search for "Best Philadelphia Barber" for the past three years.
"I'm fortunate to have been exposed to a wide variety of cultures at a young age," Rhaney told NBC Philadelphia. "I believe in giving quality service to all people regardless of their race or creed."