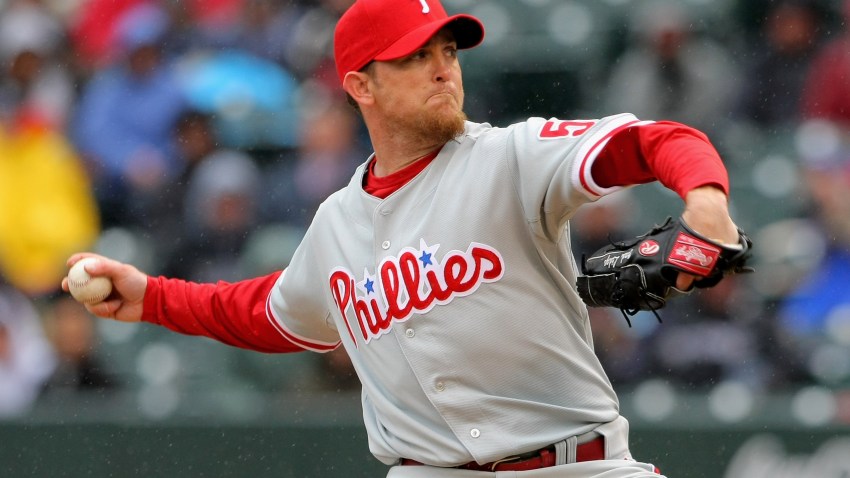 Brad Lidge gave up a tying home run to pinch-hitter Rafael Furcal with one out in the ninth inning for his second blown save in less than 24 hours, and Andre Ethier hit his second homer of the game with two out in the 12th to give the Los Angeles Dodgers a 3-2 victory over the Philadelphia Phillies on Saturday.
Ethier, who had a game-ending two-run double off Lidge in the ninth inning of Friday night's 4-3 win, sent a full-count offering from Chad Durbin (1-2) over the center-field fence to complete his fourth career multihomer game. In the fourth, he drove a 1-2 pitch into the right-field pavilion off Joe Blanton.
Cory Wade (1-3) pitched two perfect innings of relief for the Dodgers, whose bullpen leads the majors with 17 wins.
Lidge converted all 41 save opportunities last year in the regular season and seven more without a miss in the postseason for the World Series champions.
But in this four-game series between the teams with the two best records in baseball, the two-time All-Star has looked more like the struggling pitcher who temporarily lost his closer's job with Houston in May 2006.
Lidge has coughed up leads in six of his 19 save attempts this season. He has a 7.27 ERA and has yielded seven home runs in 26 innings. Furcal's home run was his 85th in the majors and first as a pinch hitter.
The 41-year-old pinch-hitter Matt Stairs hit a two-run single in the seventh inning against rookie reliever Ronald Belisario to give the Phillies a 2-1 lead. Stairs hit a go-ahead two-run homer in the eighth inning of Game 4 of the NLCS against Dodgers closer Jonathan Broxton on Oct. 13.
Dodgers right-hander Hiroki Kuroda pitched two-hit ball over six innings and struck out five in his second start off the disabled list, departing after 94 pitches with a 1-0 lead that was provided by Ethier's fourth-inning homer.
Blanton allowed a run and five hits over six innings and struck out five. The Dodgers, who have the best record in baseball at 38-20 and lead the NL in batting average, runs and on-base percentage, have totaled only five runs in 41 innings against opponents' starting pitchers over their last six games.
The Phillies didn't get a hit against Kuroda until Pedro Feliz singled with one out in the fifth. The 34-year-old right-hander's biggest out came on his 96th and final pitch, when he struck out last year's major league home run and RBI leader, Ryan Howard, on a fastball high and away to strand runners at the corners.

Copyright AP - Associated Press