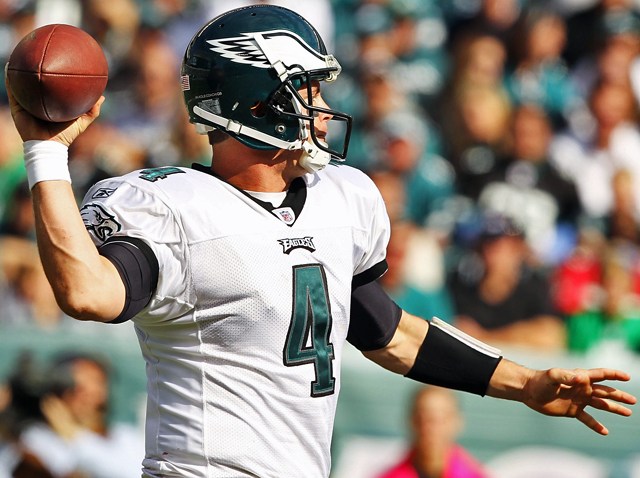 Backup QB Kevin Kolb was nearly flawless Sunday as he piloted the Eagles to a 31-17 win over the Falcons.
"Kevin had a big day," said coach Andy Reid.
You don't say?
Kolb went 23-for-29 passing for 326 yards, 3 TDs and one interception while posting a 133.6 passer rating.
KK was only in the game because Michael Vick was in street clothes as the Eagles took on his former team.
But winning the battle of the Birds came at a big cost.
Eagles star wideout DeSean Jackson was knocked out of the game with a concussion following a vicious helmet-to-chin hit by Dunta Robinson early in the second quarter. D-Jax scored the Eagles first two TDs on a 31-yard run and a 34-yard grab before leaving the game.
In D-Jax's absence Jeremy Maclin exploded. The second year wideout hauled in a career-high seven passes for a career-high 159 yards and two scores (8 and 83 yards).
King Dunlap also had a big day filling in for injured left tackle Jason Peters. He helped to stabilize and Eagles line that allowed only one sack and allowed Eagles rushers to average 4.1 yards per carry.
The defense also did their part as they limited Atlanta potent rushing attack to just 65 yards on 19 carries and they forced Atlanta QB Matt Ryan into a fumble and an interception. The standout star was Trent Cole who forced the fumble on one of his two sacks.
But all wins come with disappointments and on Sunday kicker David Akers wasn't sharp. He made only one of his four field goal attempts -- missing left each time.
The 4-2 Eagles now head to Tennessee at worst tied for the NFC East lead and tied for the best record in the Conference.
The question is if Reid will throw fuel on the QB controversy fire by sticking with Kolb or if he will go back to Vick who was a late arrival at the Linc Sunday.
"This is a beautiful thing." Reid said. "When you're sitting here as a chubby head coach in the National Football League, and you have two good quarterbacks, you're a happy guy. That's a positive thing."
Reid explained why Vick was late and wasn't on the sidelines despite being the emergency third-string QB.
"I told the kid to be here are 12:15, and he showed up at 12:15," Reid said to the AP. The game kicked off at 1 p.m. "That's it, enjoy the win.
"We just kept him in the locker room, not near the field. Today, I just wanted him here. I wasn't going to let him get in the game and throw the ball. He was not getting hit (Sunday), The chances of him being in there were slim to none. He needed to be around here dressed and in the locker room."
And the other controversial moment of the game came when Phillies slugger Ryan Howard showed up on the sidelines during the broadcast. Crossing Broad explains why fans could be left asking questions about Howard going to the Eagles game:
Howard went 1-for-4 (Saturday) night with three strikeouts. His career stats against (Sunday night's) starter, Jonathan Sanchez? 3 for 14 with seven strikeouts.
Like it or not, right or wrong, Howard will face a little extra scrutiny if he struggles (Sunday) night. That's the reality of public sentiment.