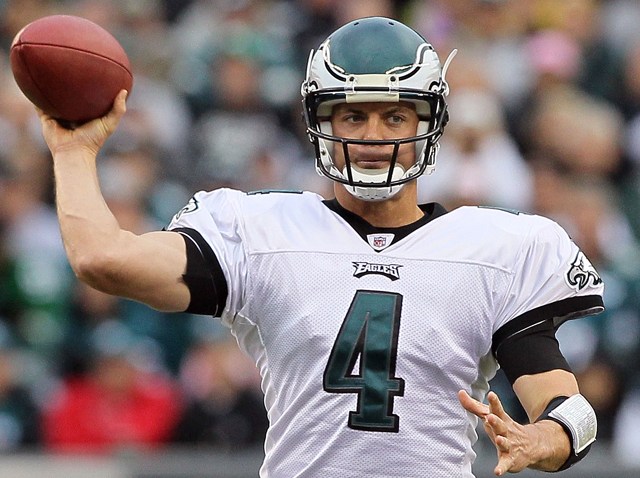 One year ago everyone was raving about Kevin Kolb, and with good reason. Starting two games in place of an injured Donovan McNabb, Kolb became the first quarterback in NFL history to pass over 300 yards in each of his first two starts.
More important than the numbers though, was what we saw from Kolb. It was obvious he didn't have McNabb's cannon arm, but he ran the offense with the poise and confidence of a veteran, finding open spots down the field for his dynamic wide receivers and checking down to higher-percentage options when those options weren't available. Kolb looked like a young player rapidly on the rise in the NFL, a quarterback on the cusp of stardom.
Fast forward a year and things don't look so pretty. Everyone wrote off his lackluster preseason -- no Eagles quarterback was playing well in front of that makeshift line. And I defended him after one terrible half. But supporting him is becoming increasingly hard to do.

His numbers don't look terrible at first glance. 22 completions in 35 attempts for 201 yards, one touchdown and one interception. And Kolb almost brought the team back for a win. Take a look at the drives he led:
FG - 17 plays, 49 yards, 5 first downs - 8:47
Punt - 4 plays, 0 yards, 0 first downs - 0:30
Fumble - 8 plays, 55 yards, 3 first downs - 4:26
Punt - 4 plays, 1 yard, 0 first downs - 1:41
Punt - 6 plays, 16 yards, 1 first down - 3:27
TD - 9 plays, 65 yards, 5 first downs - 3:31
INT - 9 plays, 34 yards, 3 first downs - 1:07
You see that while Kolb had three quick stints, he also led four scoring-length drives. If LeSean McCoy doesn't fumble late in the third quarter, or if Jason Avant hangs on to the last second hail Mary that hits him in the hands, the Eagles win this game.
However, pulling off a win here wouldn't have been because of Kolb as much as in spite of him. Instead of the budding gunslinger who took over for McNabb in 2009, it was a tentative and skittish young quarterback who replaced Michael Vick on Sunday. Kolb wasn't awful - again, the team almost won with him at the helm. But he just doesn't look like the same player who lit up the score board last year. Instead of standing in the pocket and delivering accurate shots down the field, Kolb looked nervous with the ball in his hands, wanting to dump it off as quickly as possible.
In many ways, Kolb reminds me of a player who's just completely lost confidence in himself. He still has the same talent as before, obviously, but the assertive quality we all loved just isn't there anymore.
What I can't figure is why Kolb's lost his mojo. The offensive line hasn't been great, but that's a weak excuse. Getting benched after a concussion couldn't have helped, but he was bad prior to that injury. And since he's been "the man" at quarterback since sophomore year in high school, it's hard to understand why Kolb would just fold under the pressure when Andy Reid handed him the starting job this offseason.
With Vick likely out of the lineup for a week or more, Kolb has a chance to reclaim his standing in Philadelphia. Maybe with a few more starts he can iron out the kinks in his confidence and regain the promising form we saw briefly in 2009. If not, though, the future for both Kolb and the Eagles is about to get real ugly.