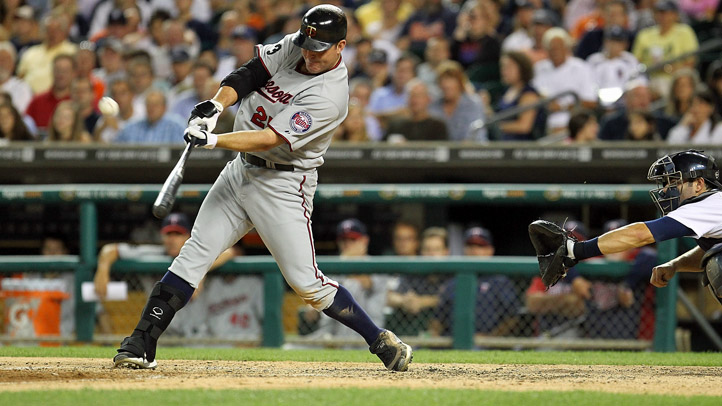 On Monday night, baseball welcomed another member to the 600 Home Run Club, after a two homer performance from Jim Thome vaulted the veteran slugger into rare air, becoming only the eighth Big Leaguer to belt 600 career home runs. He needed over 8,000 at-bats in a span of 21 seasons to accomplish this monumental feat that will most assuredly earn him a plague in Cooperstown five years after he retires.
This moment is somewhat meaningful for Phillies fans, because it wasn't too long ago that Philadelphians were celebrating as the red-pinstriped Thome blasted his 400th career homer at Citizens Bank Park. At the time, most thought that it would be Philadelphia, not Minnesota, that would be cheering when number 600 left the park, as Thome's arrival in Philly was to be a long-term, franchise altering move that brought the Phillies into an era of prosperity.
Unfortunately, the best laid plans of mice and men go awry, and Thome never got to be a part of it, as an injury in 2006 sidelined him for most of the season, allowing the young slugger Ryan Howard to take over the reigns at first base. And the rest, as they say, is history.
But even after Thome was shipped out to Chicago following that season, he was still as much a part of the organization as any of the home grown players. Maybe it was his folksy style, or his close relationship with Charlie Manual (Charlie was Jim's hitting coach during his days with the Cleveland Indians), or the fact that he was just a really humble and nice guy in a sport populated with primadonnas and showboats. Whatever it was, he would always get a standing ovation in his return trips to Philly, because two seasons was enough for us fans to get to know and appreciate the masher, a gentle giant in every sense of the word, who spoke softly and carried a big stick.
What's more, Thome even took the time to give the proper respect to Charlie Manual.
From PhillyBurbs.com
:
"Charlie has been very, very special to me throughout my career. I dedicate a lot of those home runs to him because he's been there with a lot of confidence. And in times of struggle he built us up and pep talked us."
As the game currently looks upon sluggers with a certain amount of suspicion and wariness, it's nice to see guys like Thome succeed in spite of everything that's been going on around them, with nary a cautious eye or knowing nod that would suggest any amount of impropriety.
Congratulations, Jim. You've earned it.
Now can someone please pick him before the waiver trade deadline so he can get himself a World Series ring?