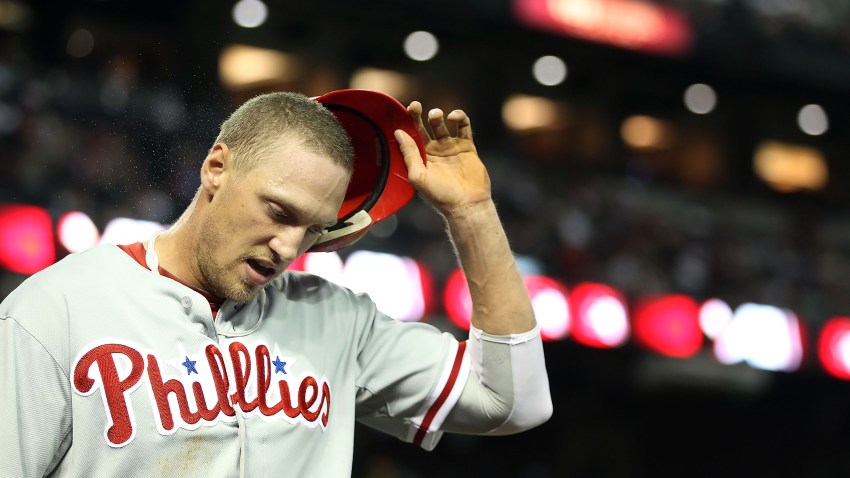 While we wait with baited breath for the Phillies to re-sign Cole Hamels, there is a lot of talk about some of the other players who could be getting traded this week, including Joe Blanton, Placido
Polanco, and now, Hunter Pence.

Even though Pence was the prize get for Ruben Amaro last season, it appears as if he is trying to move him, as the team looks to clear salary and build up their farm system. Ken Rosenthal has the skinny on the rumor:
The Phillies continue to signal to clubs that they are eager to move right fielder Hunter Pence, who could earn $13 million to $14 million next season in his final year of arbitration.
If you follow me on Twitter (and God help you if you do), then you know that I don't have much of an affinity for Hunter Pence. I don't care for the way he plays defense (he plays defense like a Butters from South Park would if he was an actual person), I don't like that he wears one batting glove, and I don't like his "Why take a pitch when you ground into a double play" approach.

From that, you can probably gather that I wasn't a huge fan of the trade that brought Pence to Philly at the cost of four players - including a trio of prospects who could legitimately make a splash in the Major Leagues. It's not that I don't like Hunter Pence as a player or as a person, I just think the cost was too much for a player who is slightly better than average, especially when said trade was grossly unnecessary. So, I was more than chipper when I read that the Phillies are looking to shop the right fielder, who will be sure to be a desired target as teams shore of their offenses for the final two months of the season.

Despite my feelings on Pence, he has been productive in his time with the Phillies. In just under a full season's worth of games, he has a line of .288/.357/.491 with 28 homers and 92 RBIs. He's certainly not been a wash, as he has provided the Phillies with a steady enough bat in the lineup, but with one more year of arbitration to come, he figures to cost at least $3-$4 million over his current salary ($11MM) in 2013. And if you're the Phillies, you don't necessarily want to pay that kind of scratch for a player like Pence.

And with the sun setting on their season, it makes complete sense for the Phillies to look to move the 29-year-old as they try to rebuild for 2013 and beyond. They aren't likely to get back the level of prospects they spent to get Pence, but he's not a scrub, and there is definitely some team out there who will give a prospect or two for a year and a half of Hunter Pence. Not to mention, moving Pence means the Phillies can finally promote hitting prospect Domonic Brown, who has been languishing in Triple A for most of the last two seasons, as the team struggled to find playing time for the 24-year-old.

As several have pointed out, Carlos Quentin's three-year extension worth $27MM to remain with the San Diego Padres could help the Phillies out, as it establishes more of a market for Pence's services, as the two have been very similar players over the last few seasons.

Even though the Phillies might not get any blue chip prospects in return, moving Pence – who is valuable – can go a long way to helping restock the system as they prepare to be competitive in 2013.