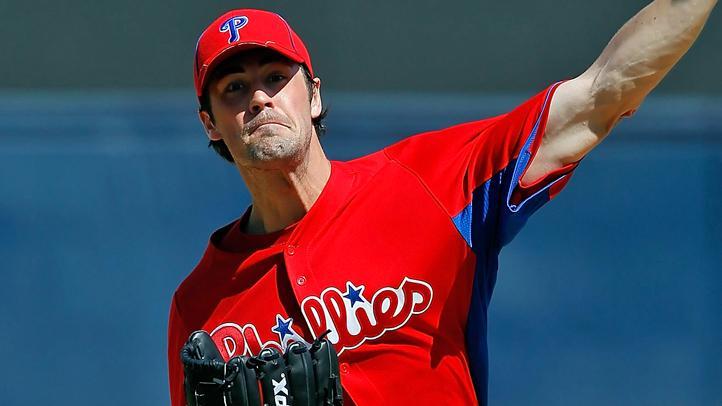 Cole Hamels was roughed up in his last long outing of the spring Thursday.
Hamels took the loss as the Phillies lost to the Twins 7-3 in Clearwater.
All eyes continued to be focused on Luis Castillo, who again went 0-4 with two strikeouts. Castillo is competing for a chance to be the team's starting second baseman while Chase Utley opens the season on the disabled list.
Hamels took a beating, giving up six runs on nine hits (including five extra base hits, two homers), in 6 2/3 innings pitched. The silver lining is that he struck out seven batters, but as Jayson Stark points out, "16 Ks in 14 IP in last 3 starts. The bad news: 16 runs & 23 hits." Hamels has an ERA of 6.75 in the Grapefruit League this year.
Closer Brad Lidge pitched in his first big league game since he was diagnosed with soreness in his right bicep tendon last week, and allowed a solo home run to the Twins' Dustin Martin. Lidge pitched two-thirds of an inning, allowed one run on two hits, and walked two, leaving the bases loaded for Mike Zagurski, who struck out the lone batter he faced to end the top of the ninth.
Driving in the only runs of the game for the Phillies were Dane Sardina (1) and Delwyn Young (2). Ross Gload ended his day going 2-3 before Ben Francisco took over right field duties for the remainder of the game. Gload is currently the heavy favorite to platoon in right when the season gets underway.
Placisdo Polanco is expected to return to the lineup Friday.
After the game, Charlie Manuel expressed some of his frustration with the challenge laid out before him to fill the remaining roster spots.
"We're missing two big run producers right in the middle of our lineup and I don't see nobody out there of the guys we've got. We've got guys who have to step up and prove they're better big-league players than they have been."
Joe Blanton faces the Braves tomorrow at Bright House Field in Clearwater. The game will be broadcast live on MLB.tv and ESPN.