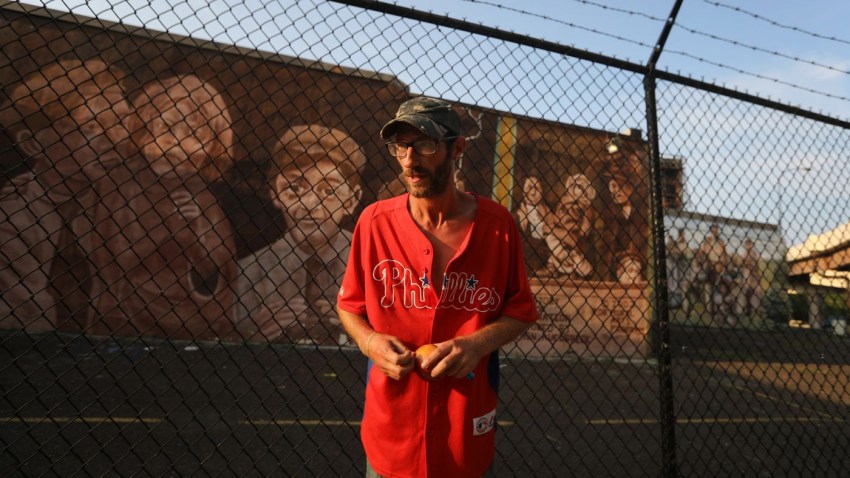 What to Know
John Bobbitt was charged with conspiracy and theft by deception for an alleged GoFundMe scheme involving a fake story.
Officials are charging him and two other conspirators with defrauding the public and fraudulently raising $400,000.
Prosecutors said they found evidence from 2012 suggesting that Bobbitt might have tried something similar before.
The homeless man who became famous, and then notorious, for allegedly fabricating a story in order to raise money for himself and his conspirators might have devised a similar plot before, New Jersey prosecutors said.
John Bobbitt was charged with conspiracy and theft by deception for an alleged GoFundMe scheme that "hoodwinked an awful lot of people," authorities said Thursday.
The so-called plot involved South Jersey couple Kate McClure and Mark D'Amico. A photo circulated on the internet showing McClure and Bobbitt on the side of Interstate 95 last year after Bobbitt had supposedly used his last $20 to help the woman fill her gas tank.
Soon, the heartwarming story landed on a GoFundMe campaign that went viral and raised raised more than $400,000 from thousands of people.
But once the relationship soured, law enforcement officials investigating the case stumbled on a 2012 Facebook post from Bobbitt. It was of a photo, very similar to the one of Bobbitt and McClure, featuring the homeless man with a different woman in North Carolina. That woman had apparently run out of gas and had a flat tire in a Walmart parking lot, prosecutors said.
Bobbitt claimed to have used the last of his "supper money" to help her out, Burlington County prosecutor Scott Coffina said.
"I don't think that's a coincidence," he said.
The accusation is part of an ongoing investigation into Bobbitt, McClure and D'Amico. Prosecutors contend that the trio conspired to create a fraudulent GoFundMe campaign and keep the money for themselves.
The scheme could have worked had the couple not kept more than agreed for themselves, fraud and forensic expert Howard Silverstone said.
"If the three of them would have … divvied up the money and gone about their business, no one would have any reason to question it," he said.
But no good deed goes on unpunished.
Instead, the group became entangled in a bitter court battle that has led investigators to charge all of them for fraud.
And this is the danger of crowdfunding, some experts warned.
"There's no accountability on the back-end," Stephanie Kalivas, an analyst for Charity Watch, told NBC News. "[Fundraisers] don't have any responsibility to report back and give proof they spent the money the way they said they were going to use it."
GoFundMe does offer protections for duped donors — they can be repaid for donations of up to $1,000 if a campaign is found to be fraudulent — and has helped raise billions of dollars for people in need since its launch in 2010.
While the company has become more proactive looking for fraud — it shut down several suspicious campaigns that popped up soon after the school shooting in Parkland, Florida, earlier this year — it still mainly relies on users to point out suspicious activity.
"A lot of it boils down to, 'If you see something, say something,'" Gonzalez said, echoing the slogan of the Department of Homeland Security.
And while the platform will work with law-enforcement probing fraudulent campaigns, the most the company will do on its own is shutter a campaign, Adrienne Gonzalez, founder of the watchdog website GoFraudMe, said.
GoFundMe said immediately after charges were filed that all 14,000 donors to the campaign would be refunded in full.