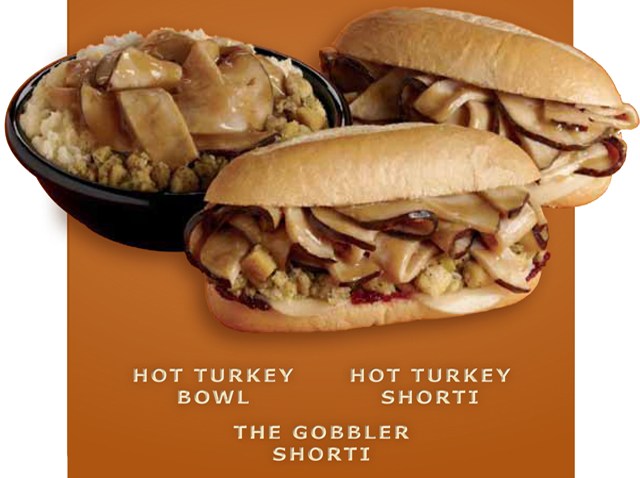 Just like winter's first snow, the return of hot, gooey turkey, mashed potatoes, stuffing and cranberry mixed in a bowl is becoming a Turkey Day tradition.
And now -- it's back: Wawa's hot turkey bowl and Gobbler has returned to stores.
This is more than just a "Hoagiefest" -- like a box-office movie sequel the hot Turkey Bowl returned to the delight of "turkey-ists" (like the ones who started a Facebook group dedicated to Wawa's turkey treat).
Conveniently, the hot turkey showed back up just in time for Thanksgiving.
That's right. The savory taste of turkey drenched in gravy draped over delicious mashed potatoes and stuffing with a sweet serving of cranberry sauce on top is available now!
So is the savory six-inch Shorti Gobbler hoagie featuring hot turkey and cranberry covering stuffing.
Hungry yet?
Hot Turkey sightings began cropping up in South Jersey right after Halloween and by the first weekend of November reports were coming in from all over Wawa Nation that it was time "gobble" down again.
By Monday, it was on the menu at all Wawa stores, said the company.
The level of energy and fanaticism surrounding the Turkey Bowl wasn't expected when Wawa first promoted the seasonal-offering three years ago.
"We under anticipated how man people would want it," said Wawa spokesman Lori Bruce.
That energy caused the Turkey Bowl to become one of Wawa's biggest sellers.
How many hot Turkey Bowls and Gobbler Shorti hoagies do they serve up?
"A lot," joked Bruce. "That's only an estimate."
Wawa might be keeping the specific numbers secret, but they did reveal that they sell around 83 million hoagies at their stores each year.
The greatest part of the return of hot turkey is the return of Wawa's $2.99 deal. Starting Nov. 16 the Turkey Bowl or Gobbler will cost just $2.99 for a limited time, according to Wawa.
But, is the Turkey Bowl here to stay this time around?
Cruelly, as fans of the turkey bowl learned last winter, this great comfort food won't be warming bellies forever.
"It will remain in stores just long enough but not too long… we don't want to drag it out until summertime," said Bruce.
The best bet to keep up on Turkey Bowl status besides gobbling one down everyday or two is to follow Wawa on Facebook.
Wawa Facebook followers even came up with a twist on the Thanksgiving-inspired Turkey Bowls or hoagies. Try hot turkey over mac and cheese with cranberry sauce on top.
That should make fans want to gobble, gobble down.