Gioia Mia (Joy-ah Mee-ah) translates to "my joy." This name was chosen by Executive Chef Fabrizio Pace to express his joy in bringing his culinary talents to the world. But truly, it was "my joy" to eat at Gioia Mia.
I dined at Gioia Mia during Center City's Restaurant week. Although the menu was slightly altered to accommodate the specials, I can't imagine that you could choose anything on the regular menu and not be impressed.
From the get-go, I was thoroughly pleased with my dining experience. Walking into the authentically decorated restaurant (think a fairly small, intimate, dimly-lit room with an airy, open kitchen) gave me re-assurance that I was not in some trendy, flavor of the month spot.
After our waiter, Max, took our drink and dinner orders, we were left up to our own devices. Luckily, the staff and owners of Gioia Mia kept us quite entertained. Fabrizio, Peter (owners) and Max were very friendly and made us feel as though we were old friends. We didn't get to talk for long though, because before we knew it, our first course was served. I chose a Caesar salad, while friends chose the seafood salad. The Caesar was crispy and the seafood was fresh (or so I was told, I'm not a big whale/octopus/fish fan). So, based on fan reaction, both choices were good ones.
Within seconds of our first course being removed, our main course was on the table. I had the NY Strip Steak with arugula, tomatoes and a balsamic dressing. I can't praise this meal enough. The dressing was delicious and everything, especially my steak, was tasty. My NY Strip was so tender and (the best part) served to me already cut! Oh, and I can't forget the potatoes. The "baked" potato wedges were of perfect flavor and proportion. Ok, let me really break this down with out all the adjectives. If it wasn't in bad taste to lick your plate in public, I would have licked my plate. I just didn't want people to look at me funny. Seriously, it was that good. Friends had the Gnocchi al Pomodoro (homemade potato gnocchi in a fresh plum tomato sauce). The dish was referred to as the best they'd ever tasted. Quite a compliment coming from a group of girls that can eat like men, love Italian food, and try a new Italian restaurant every chance we get.
Options for dessert were sorbet, hot apple pie with vanilla ice cream, or vanilla ice cream. Each of us ordered a different dessert, shared them, and loved all three. I'm pretty sure the ice cream was home-made, the pie had huge chucks of apple, and the sorbet was smooth and creamy.
Just when we thought we had had enough, Peter brought us out a complimentary ice cream and after dinner drinks. Like I said before, the staff treated us like old friends.
I'm urging you to give Gioia Mia a try. I can't promise you'll get a free dessert, but I can promise that you'll have the best Italian meal with arguably the best staff in the city. I can't wait to go back for seconds.
Gioia Mia fun facts:
The cast of Cold Case frequents the restaurant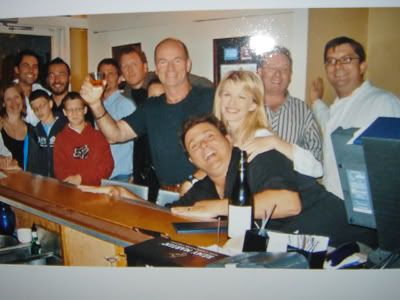 They have this statue in the window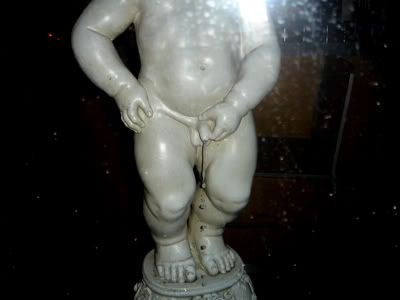 Copyright DigPH - Digphilly