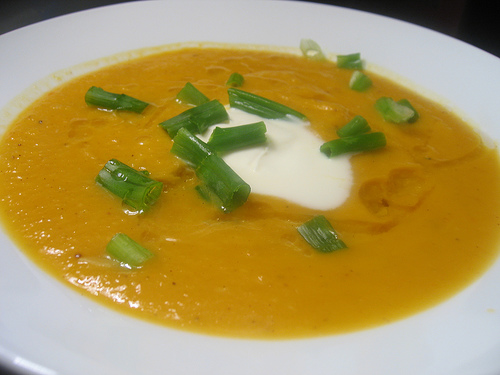 Ginger Butternut Squash Soup
Makes 6 to 8 servings
Ingredients
· 2 tablespoons olive oil
· 4 cloves garlic, whole with peel on
· 2 tablespoons grated ginger
· 2 pablano chiles, seeded and chopped
· 4 pounds butternut squash, peeled and cut into 2-in. cubes
· 3 cups vegetable broth + 3 cups water
· Salt and pepper
Preparation
Preheat oven to 450. Wrap whole cloves of garlic in a foil pouch and drizzle with 1 tsp olive oil. Roast for 30 minutes or until tender.
Over an open flame, char peppers on all sides then place in a bowl. Cover to steam for 10 minutes, Remove skin, stem and seeds and set aside.
Heat olive oil in a 4- to 5-qt. pot over high heat. Add squash, roasted garlic, peppers, and ginger. Cook 2 to 3 minutes. Add broth, and 3 cups water. Bring to a boil, lower heat to a simmer, and cook, stirring occasionally, until squash is tender, about 20 minutes.
With an emersion blender, puree soup. Season with salt and pepper. Serve
Katie Cavuto Boyle MS, RD
Personal Chef
"Healthy Bites"
877-667-6495
www.healthybitesdelivery.com