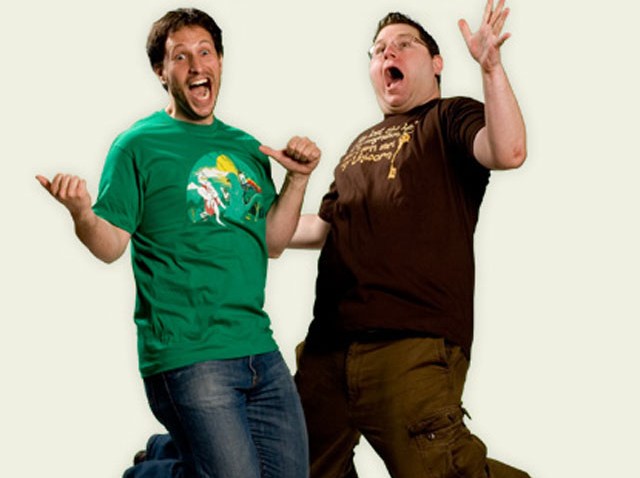 Who'd think that long hours of T-shirt appreciation talk would turn into a partnership and business? It did for two die-hard T-shirt maniacs.
Evan Ferstenfeld and Roni Lagin's friendship began with a chance encounter at a concert and led to opening their new business enterprise -- Made With Awesome, which officially launched just last Friday.
"We wanted something that was easy to remember like the other Web site I had, Mynameisfrickinawesome.com," said Ferstenfeld. "And also because our T-shirts are made with awesome," he said.
When Evan isn't coming up with clever blurbs for the awesome line, he works fulltime in the Abington Hospital Emergency Room. Roni is a graphic designer and creator of the Made With Awesome Web site. We got a kick out of the "About" section of the site which has a really dorky pictures of the guys and a humorous read on how their business evolved.
"Our designs are made in a collaborative manner, since two goofy minds are better than one...Good enough be damned, we're in the awesome business!"
The T-shirts are printed in Philadelphia on "oh-so-super comfy 100-percent cotton." We got a good laugh out of some of their off-their slogans like, "I've lost the key to my imagination. Now I can't start my Unicorn."
Prices range from $20 to $22. "We wanted to make them as low as possible to compete with the big boys," said Evan. "In the future we would like to lower them even more."
Right now, you can get your hands on one these bad boys online. The awesome guys may eventually sell out of some local boutiques and plan to pop up at your favorite arts and crafts festival.