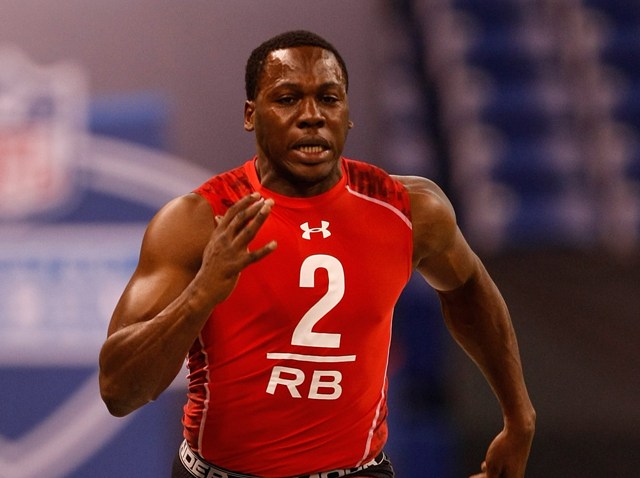 The Eagles have signed running back Joique Bell off the Bills practice squad and onto their 53-man roster.
This means someone had to go, and no, it isn't Kevin Kolb. Instead Mr. Kendra, Hank Baskett, hit the chopping block for the second time in as many seasons. Practice squaders RB Martell Mallet and S Chip Vaughn were also shown the door.
The Eagles hope the rookie will be able to provide a little Bell-on-Bell competition for injury-prone no. 2 Mike Bell, whose performance to date has been a study in studied nothingness -- he didn't book a carry in the opener, and then rushed four times without gaining a single yard against the Lions.
New Bell can't be any less significant, right? Let's get to know him!
Name: Joique Bell
Alternate spelling his parents were surprisingly wise to discard: Joyk Bell. Norwegians are notorious draft busts.
Size: 5-foot-11, 220 pounds
Age: 24
College: Division II Wayne State (motto: We Are Not In Indiana Like You Assumed)
Drafted: n/a, 2010
College accomplishments: Tallied 6,728 rushing yards, 918 receiving yards, and 100 touchdowns (four passing!) in his career; won the Harlon Hill Trophy as Division II player of the year as a senior after rushing for 2,084 yards in a single season; and was twice named the GLIAC offensive back of the year.
NFL Preseason performance: Bell did pretty well with the Bills, totaling 21 carries for 142 yards (almost 7 yards per) and 2 touchdowns. He's not particularly fast, but he's strong, and can break tackles.
Highlight video that will pump you up even though he's playing for Division II Wayne State, the location of which you had no idea:
...and we thought attendance at Bucs games were bad.
Interesting fact from an article titled, "Joique Bell Living NFL Dream With Bills," the latter part of which has been an oxymoron since 1993: Bell used to work part-time as a security guard at Ford Field in Detroit during college.
In fact, he once recognized an NFL scout during a kids' camp at the stadium and accosted him.
"I still remember the conversation to this day," Bell said. "I asked him if a guy could ever get drafted from Wayne State. He looked me in my eyes and told me, 'Hey, if you have talent, they'll find you.'"
It also helps to be holding donuts.
Anticipation level: May as well learn to pronounce his name, even if you'll never need to spell it.