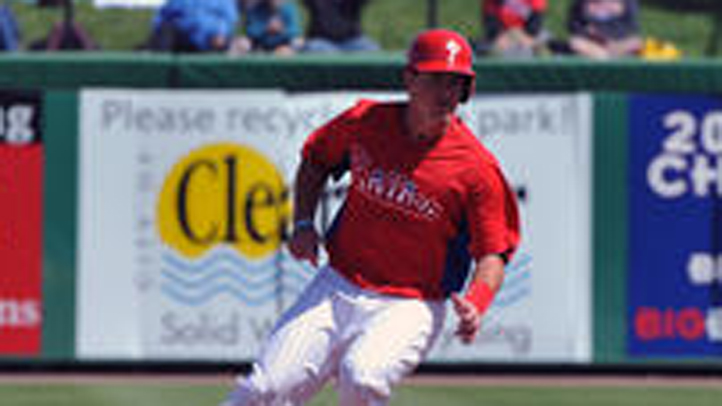 Depending on who you are, Spring Training means a lot of different things. To most veterans, it's an extended practice that let's them get their timing down. To some of the younger guys, like Domonic Brown, it's a showcase to prove to the brass that they are, in fact, ready to be a prime time player. And to a minor leaguer who was given an invitation to big league camp, it's like a sort of audition reel, in hopes that the team will remember their March performance when it comes time to get the call to The Show.

Such is the case for Tommy Joseph, the young catcher who seems to be impressing everyone this spring, thanks to some strong offensive performance, and an even stronger arm.

Joseph, who was acquired last season from the San Francisco Giants in the Hunter Pence trade, figures to be one of the lone bright spots in an minor league system that has been ravaged over the past few seasons. And if he keeps hitting like he is this spring, it won't be long until he is behind the plate in Citizens Bank Park.

In six Spring Training games, Joseph is hitting .462 with a homer, two doubles, and two RBIs. It's a crazy-small sample size, of course, and hitting .462 in March is about as meaningless as it gets, but the kid certainly does have some hitting chops. In three minor league seasons, he has 49 homers and 211 RBIs. Granted, his .256/.308/.427 line isn't blowing anyone away, but he's got good power numbers at a position where that skill comes at a premium.

Combine that with a strong throwing arm that has served him well thus far this spring, and it appears that the catching future in Philadelphia is in safe hands.

Which brings me to this: Should Tommy Joseph start the season with the Phillies? This question was raised by some on Twitter today, thanks to Joseph's strong spring play and the fact that Carlos Ruiz will miss the first 25 games of the season due to his PED-related suspension. If Joseph figures to be the guy when Ruiz's contract is up (2013 is his last year in red pinstripes), then maybe it makes sense to start him now.

It's a fair question, of course. Even though Joseph is all of 21-years-old and has never played above Double-A ball, that doesn't really matter if he can perform. Backup catcher Erik Kratz, who was a revelation last season, isn't a sure-thing when it comes to repeating his 2012 performance when he fills in for Chooch in April. And given how a bad April can wreck a season, having plenty of options behind the plate isn't the worst idea.

If it were up to me, Joseph would start the season at Double-A, regardless of how he performs for the rest of the spring. At this point, his continued development is key, and the Phillies would be wise to keep him off the big league roster until he is truly ready, especially if he won't be the starter past April. It doesn't make a lot of sense to start him, only to send him back down in May once Ruiz gets back. If he starts the year in the minors, he'll play every day against competition that will adequately allow the Phillies to gauge his performance.

The last thing the Phillies want to do is to expose him to the Majors too early, lest they risk hurting his development. That doesn't mean that he won't be ready to contribute this season, but for now, they should be content to let their catching prospect continue to develop in the minor leagues.