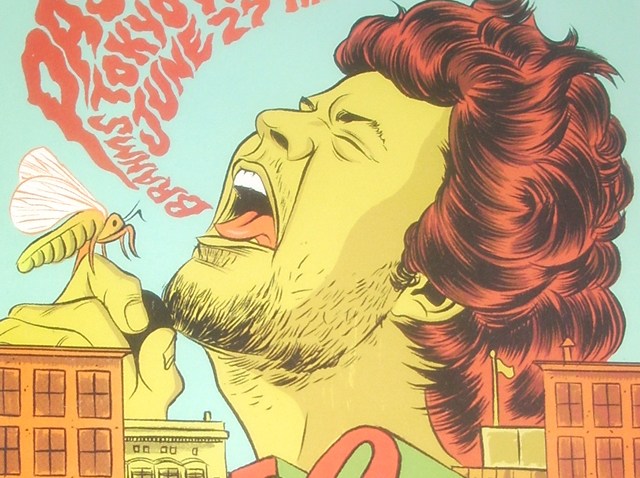 Usually when you go to concerts, you come home empty-handed and broke -- must be the $12 beers. But if you attend a rock show at The Mann Center for the Performing Arts this summer, you'll be leaving with at least a special memento.
It's a 5-inch-by-7-inch mini-poster created just for that concert by illustrator Alex Fine. There's a different card for each concert and they all connect to create a longer poster. If you miss a concert, don't worry. Fine drew them so that each one will connect naturally to any of the others.
The first set was handed out to fans as they left the Passion Pit concert Sunday night.
The posters were created to "commemorate the 2010 Mann summer concert season and the 75th Anniversary of the Mann."
Fine has done work for the Mann Center before for concerts such as Neko Case and The Church. That's how promoter AEG Live found him to do this poster series.
The only guidelines for the posters were that they all had to connect to every other one and they had to incorporate Philadelphia, said Fine.
Originally the posters only had to connect in order of the concerts, so Fine's original sketch was a little different. "I ended up with only two days to redraw and ink them all," he said on his blog.
It took him 20 hours to sketch and about 80 hours combined to do all the inking and coloring. The most difficult part was the hair, he said. (His effort shows in his depiction of Passion Pit lead singer Michael Angelakos.)
"It was kind of like a rush," Fine said. "It was a challenge."
The upcoming shows showcasing Fine's work include Faith No More, Arcade Fire, Keane, MGMT, Cake and Pavement.
He plans on finishing the original sketch and giving it to the Mann to use as they please. He hopes they will sell it at the end as one big poster.
Fine, who is from Baltimore, got his inspiration from D.C. artists and 80s punk rock posters. "Now band posters are more about graphic design," he said. "I like illustration."
Fine has gotten a lot of feedback since the Passion Pit show. If you want to see the colored posters as they're released at each concert, check out Fine's blog. Or go to the concerts. Tickets are available through the Mann Center Box Office.