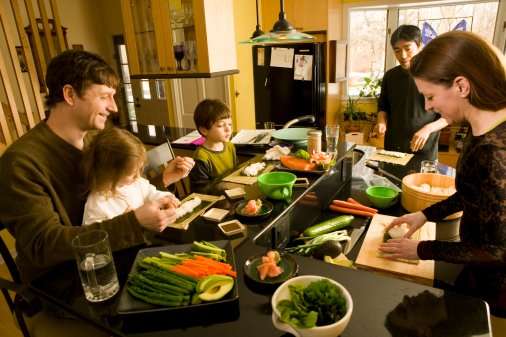 You know that feeling, when you're seated at a table at your favorite restaurant eating your favorite dish and you think to yourself: "Man, I wish I knew how to make this at home!"
Thanks to Foster's Homeware, you can learn how to cook from Philly's best chefs. The creative culinary minds behind restaurants like Distrito, Fork and Melograno host free cooking demonstrations at the Old City shop.
Check out the dates below for your chance to catch some of your favorite chefs in action. All demos are held Saturdays at 2 p.m.
March 21: S.J. Hussey and Lauren Gery, Mi Lah Vegetarian
Mi Lah chefs Lauren and S.J. will demonstrate great ways to use local, seasonal, vegetables as they prepare vegan food that even carnivores will like.
March 28: Tim Spinner, Distrito
Distrito's Chef de Cuisine Tim Spinner will demonstrate how to give traditional Mexican dishes a modern twist and a bit of polish.
April 4: Paradiso
A chef from Paradiso will cook up some traditional South Philly Italian—and if you attend, he'll be sure to make you try some samples.
April 18: Izumi
South Philly meets Japan? At Izumi it does. And the restaurant's sushi chef will demonstrate the City of Brotherly Love's take on raw fish.
April 25: Gianluca Demonits, Melograno
Chef Demontis will show how Melograno keeps its dishes traditional and simple, yet full of flavor.

May 9: Delilah Winder, Delilah's Southern Cuisine
Soul food done right—Winder will also sign copies of her book "Delilah's Everyday Soul."
May 16: Michael O'Halloran, Bistro 7
Chef O'Halloran returns to Foster's for a demonstration in American bistro cooking that's sure to delight even the pickiest of eaters.
May 23: Terence Feury, Fork
Fork's new chef will cook up the type of seasonal, artisan dishes that keep Fork's menu ever-changing and constantly fresh.
May 30: Todd Fuller, Tangerine
Modern Mediterranean will be the focus as Executive Chef Todd Fuller creates some traditional meals with Tangerine's signature updates.