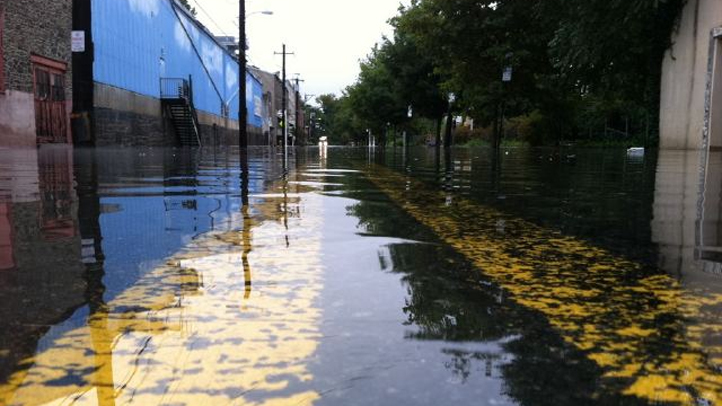 Major flash floods are sweeping the area as creeks and rivers rise from Chester County to Trenton Thursday morning.
Tropical Storm Lee and other bands of moisture dropped more rain on parts of the area these past couple days and it's catching up with us, as roads -- such as I-76 between I-476 and Girard Avenue -- close as water takes over.
Manayunk and other areas hit hard by flooding after Hurricane Irene just days ago are again dealing with flood waters Thursday.
More severe flooding is expected as heavy rain moves through, hitting Lancaster and Berks Counties the worse.
As of 10 p.m. Wednesday the National Weather Service was calling for a Major Flood Warning for the east branch of the Brandywine Creek near Downingtown and the main branch Chadds Ford where the creek is expected to crest at 13 feet Thursday night.
The forecast was also grim for the Delaware River where flooding was expected in Easton and again in Trenton. Trenton was hit hard by Irene as the train station was closed for days due to severe flooding.
In Trenton the Delaware is expected to crest at 23.5 feet Friday morning. And, one of the other areas expected to be hit hard by floodwaters is the New/Hope-Lambertville Bridge region where the Delaware is expected to crest at 16.5 feet Friday morning.
The Schuylkill River is expected to crest at 18.8 feet in Norristown at 8 p.m. Thursday, according to the National Weather Service.
The river will crest along the Kelly Drive at 12.8 feet at 2 a.m. Friday, according to city officials.
If the flooding continues as expected the Kelly Drive will remained closed until at least Friday, officials said.
In anticipation of more flooding Pa. Gov. Tom Corbett urged residents in flood-prone areas to be prepared.
"This is not a time to panic; this is a time to prepare,'' Corbett said. "Also, if you must drive, slow down, and never try to drive through standing water on roadways or around barricades.''
More than 500 members of the Pa. National Guard were already called up to help with possible rescue efforts, the state Emergency Management Office said.
"People need to know that this threat is real, and they need to follow the guidance of their local emergency officials," said PEMA Director Glenn Cannon. "If you're told to leave, grab your emergency kit and leave. Flood water can rise, even when the sun is shining."
In preparation for flooding the Red Cross opened temporary shelters including one at Avon Grove High School in West Grove, Pa. and the William Penn Middle School in Morrisville, Pa.
---
Fan, follow and download: Get the latest from NBCPhiladelphia.com anytime, anywhere. Follow NBC10 Earthwatch on Facebook. Sign up for our weather newsletter. And, get weather forecasts delivered right to your mobile phone -- just text PHIWEATHER to 639710 to sign up. (Message and data rates may apply.)