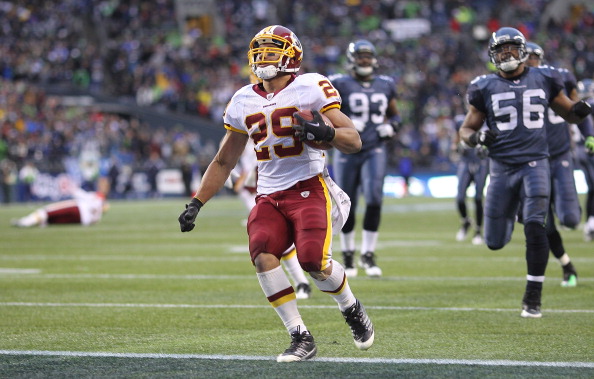 We're gonna cover fantasy football all season long here at Bird's Nest by answering five questions every week about various fantasy-related topics. FLESH FOR FANTASYYYYYY. Let's roll.

1. Who's going to be the most effective backup running back down the stretch? Suddenly, every single running back in the universe is hurt, which means those of you that stashed Toby Gerhart on your roster all season long got to enjoy the fruits of your labor by watching Gerhart plod for 44 yards and a score. HOORAY YOU! Gerhart represents a sorry lot that includes CJ Spiller (still terrible), Maurice Morris (also still terrible), DJ Ware, and the suddenly ALIVE WITH PLEASURE Roy Helu, who ran for over 100 yards against the Seahawks and scored a touchdown. Of that bunch, it's Helu who has the best shot of turning in a late stretch run like legendary Jerome Harrison December Run Of Ought Nine. But if you're banking on that miracle, don't expect it to come to pass. And the reason I say that is because I picked up Kevin Smith off waivers last week and started him and he got hurt right away so now I don't believe in NOTHIN'.

2. HOLY SMOKES IS THAT PEYTON HILLIS? It is! I didn't even know he was still an active player anymore. I thought he retired to a goat farm or something. But no! No, Peyton came back and... well, he played pretty much like every Browns running back of the modern era, earning 3.4 yards per carry and making me want to stick a knife in my heart. Don't expect Peyton to suddenly redeem himself this month. He's committed far too many crimes to atone in just four weeks.

3. Is Vince Young going to help fantasy teams down the stretch? Mike Vick sat out of practice yesterday. And given the short week (the Eagles play Thursday night), I'd be surprised to see him in the lineup against a limp Seattle squad on the road. Between DeSean's antics and coaches fighting on the sidelines, the Eagles season is essentially over. I don't see the point in Philly trotting out Vick for five meaningless games when they just opened Gringotts for him in the preseason. They need to protect their investment. For his part, Young has a lower completion rate than Vick, and he has a worse TD:INT ratio. He's the poor man's version of THIS YEAR'S version of Mike Vick, and that's not good. Beware.

4. Did the Niners just ruin any chance for Aaron Rodgers owners to win their fantasy title? With two losses to their name, the Niners are now two games behind the Packers for the top seed in the NFC, and it's unlikely they'll be able to make up the difference. Here's the dagger: The Niners get the Steelers in Week 15, one week before most fantasy leagues hold their title game, so they could find themselves three games out after that, meaning Rodgers could rest for the final two weeks of the season. And as someone who does NOT own Aaron Rodgers, I say MWAHAHAHAHAHAHA.

5. Is Norv Turner the worst coach in the history of everything ever? Yes. That has nothing to do with fantasy, yet it still feels relevant.