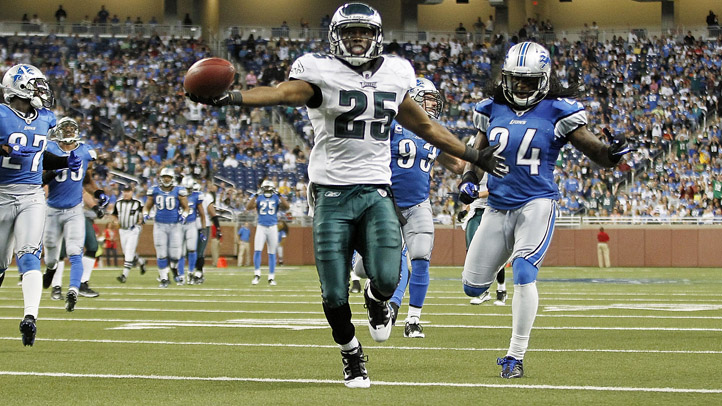 We're going to cover fantasy football all season long here at Birds' Nest by answering five questions every week about various fantasy-related topics. Let's roll.

1. Will Adrian Peterson run all over the Bucs on Thursday night? If he does it'll be hard-earned. There's not a lot to like about Tampa Bay, even with a new coach and a new "take no prisoners" identity that hasn't quite worked out. While the offense if of the "avert your eyes, please" variety, the defense is really, really good. Heading into Week 7's game against the Saints, the Bucs' defense ranked first against the rush, according to Football Outsiders. Presumably, the game plan against the Vikings will be to stop AP and force second-year quarterback Christian Ponder to beat them. Seems like pretty straightforward football math.

2. Has Mark Sanchez turned the corner as an NFL QB? Yes, Sanchez threw for 328 yards but that was against a Patriots secondary made up of cardboard cutouts. Sanchez, the fourth-year vet who is worried about Tim Tebow taking his job has been underwhelming this season. There's no reason to think that he'll go to South Florida and suddenly remind people of Joe Namath.

3. Who's poutier -- Cam Newton or Jay Cutler? Then Panthers face the Bears Sunday in a game whose mascot could be a crying baby in a diaper holding a rattle. To answer the question: Newton wins hands down. Carolina is 1-5 and Newton's post-game pressers have become unemotional dramedies. Cutler and the Bears, meanwhile, are 5-1 and look like one of the NFC's best teams. Winning has a funny way of fixing things. And as long as Chicago keeps winning, Cutler's not "pouty" but "determined" or "focused" or any other adjective that describes his competitiveness.

4. Can the 'Skins run on Pittsburgh's D? If this were 2008 or 2010, no way. But this is 2012 where the Steelers' run defense is in name only. And the Redskins, behind rookies Robert Griffin III and Alfred Morris, have the league's second-ranked rushing attack. Pittsburgh's defensive line has been getting manhandled at the point of attack and with Washington's read-option there would be some gaping holes between the tackles. Expect a big day for the Redskins' ground game.

5. Which Eagles player should I start against the Falcons in Week 8? Yes, it looks like a huge mismatch on paper but the Eagles had the week off, spent much of it doing some behind-the-scenes retooling, and we expect them to play well against the undefeated Falcons. While much of the focus has been on quarterback Matt Ryan, on the other side of the ball Atlanta's run defense has been nothing short of awful. They rank 25th in the NFL, which could mean good things for running back LeSean McCoy. And we know he'll get plenty of work because coach Andy Reid said that he's keeping close tabs on, well, everything. And if Reid truly is serious about saving his job, he knows that he'll have to use McCoy. A lot.