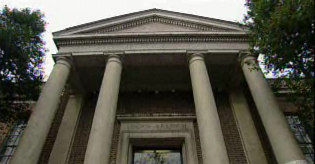 It may be the holiday season, but the folks who are fighting to save Philadelphia's libraries are not taking a break.
23-year-old Robert Bellinger doesn't have a home computer so he uses those at the Logan branch of the Free Library -- one of 11 branches slated to close next week.
Bellinger says the closure will hurt him, but he's more concerned about the impact it will have on his three school aged sisters.
"I think it's going to bring a negative effect on the children ...they won't have opportunities…nowhere to go basically," Bellinger said Friday.
Bellinger has participated in some of the rallies to voice his opposition to Mayor Nutter's proposal to close the 11 libraries.
The mayor says the closures are necessary because the city is facing a budget shortfall of at least $1 billion over the next five years.
Many, like Marcus Sampson, wish the mayor would find another way.
"In the summertime it's going to be a big thing because kids are not going to have a place to go," Sampson said. "That's going to lead to kids getting involved in the wrong thing."
Milena Velis is with the Coalition to Save the Libraries. Next Tuesday her organization will hold a rally outside City Hall and will announce a people's indictment of the mayor.
"We are going to charge the mayor with a list of 11 charges and say that he is breaking the public trust by failing to provide these essential services to the city," said Velis.
And that's not all -- two lawsuits, one by citizens, the other by members of city council, have been filed to try to keep the libraries open.
There will be hearings on the lawsuits next week.
In the meantime, signs of protest hang on the walls in the Kinsessing branch -- reminders these people are not closing the book on this fight.
"I know we're going to keep fighting this. We're not going to back down," said Velis.
The Mayor's office says he's reviewing the lawsuits and will comment next week.
The Coalition to Save the Libraries will hold its event next Tuesday at 9:30 a.m. outside the northeast corner of City Hall.
They say anyone is welcome to join in.