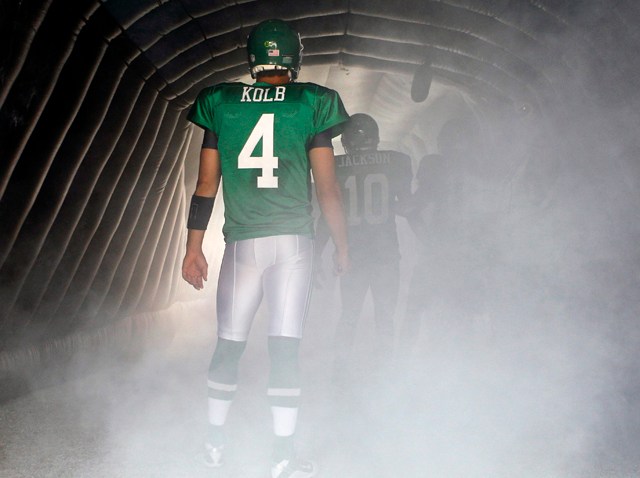 Well, that was fast. One day after switching over to Mike Vick as their starting QB for at least the immediate future, the Eagles began getting calls from teams looking to trade for Kevin Kolb.

Via Sal Paolantonio:
"The Philadelphia Eagles have received numerous calls about the availability of quarterback Kevin Kolb from several teams, according to a senior team official.

'We have had calls,' the team official said Wednesday.

When asked Wednesday whether Kolb would be on the Eagles' roster after the Oct. 19 trade deadline, Eagles coach Andy Reid said, 'Listen, I can't predict anything down that far; nobody in this league can do that.'"
There are a number of teams that are facing terrible quarterback crises right now -- Arizona, Buffalo, Jacksonville, Carolina, Oakland, even Minnesota. The fact that it's so early in the season makes those teams even more desperate, particularly the Cardinals, who are in huge trouble with Derek Anderson at the helm.

I have little doubt the Eagles could get a 2012 first round pick for Kolb, or perhaps multiple mid-round picks from this year's draft from him. And Andy Reid's oddly cryptic comment about the idea (he's clearly learned his lesson in giving definitive answers after the Vick fiasco) suggests he isn't willing to shoot it down outright.

But I seriously doubt you'll see Kolb traded away this year. Vick has played brilliantly over the span of these last two games, but there's no guarantee he can keep it up. He also had a habit of missing games due to injury when he played for the Falcons, his penchant for running making him an easy target.

Then there's the matter of Vick's past. While Vick has said and done all the right things since arriving in Philly, there's no guarantee he won't turn around and do something idiotic and end up suspended or gone from football for good. Without Kolb, losing Vick to injury or suspension would leave the team screwed entirely, and I'm sure Reid and Joe Banner are more than aware of this.

So while rumors may swirl and bring a new dimension to this QB controversy, don't expect Kolb to be going anywhere anytime soon. Too many things can happen. Quality backups can see the field at any time. Just ask Kevin Kolb.