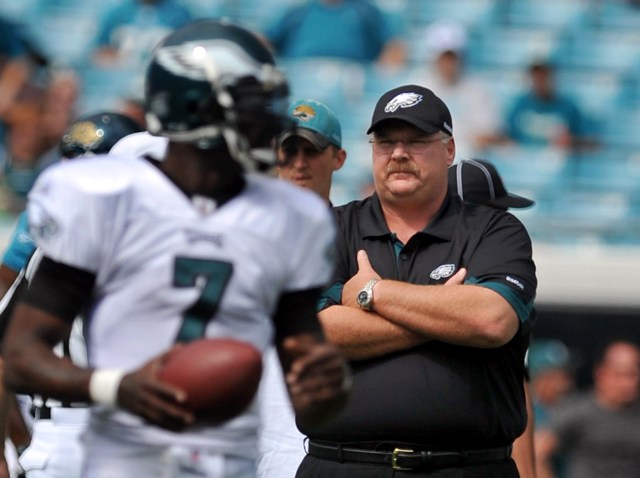 The Eagles opened a can of whoop -- you know what -- on the Jaguars in Jacksonville Sunday.
The Birds soared to an easy 28-3 victory -- something that wasn't lost on head coach Andy Reid:
"All in all, I was proud of the guys for the effort and the intensity they had because this is a tough place to play. We haven't had a lot of luck here, but they didn't really care and came down here and play their hearts out. My hat goes off to Jack Del Rio and his football team because they are banged up a little and they played their hearts out today too."
Talking about heart... Reid was sure to praise Michael Vick:
"He's been playing his heart out for the last six quarters, including this game here. He played his heart out today so it's more about him than me than anything else. It's a tribute to what he has done and how he has handled things. I'm proud of him for doing that."
Vick was sure to thank his buddies on the offensive line who helped protect him enough to put up an impressive 119.2 passer rating, 291 yards passing, three passing TDs and a rushing score to boot:
"The offensive line did a great job and there's a couple of things I could have done better. That just goes with film study, when the defense is blitzing, and I could have made it a little easier with a couple of players. But that's just part of me growing up and learning the scheme."
Some humble Mike, huh? He wasn't so humble when talking about his red zone efficiency:
"If you go back to my days in Atlanta I thought we always did a good job in the red zone and had a high efficiency and percentage in the red zone and were able to score a lot of points. My eyes light up when we get down there and I think everybody else on this football team does too. You have to go out there and put the ball in the end zone. You work so hard to get down there and you don't want field goals, you want touchdowns."
One of those TDs went to WR DeSean Jackson who hauled in five balls for 153 yards. D-Jax likes playing with Vick behind center:
"He's worked so hard to get back where he needs to be and it's a great opportunity for himself to go out there and prove everybody wrong and who's doubted him. It just shows that the quarterback, if he stays patient and your number is called on, you're able to come out here and just make things happen. It's a big plus for the receivers, the offense, as a team, for a guy to come in and spark us up like that. It's a pretty good situation."
Was that a knock at former Eagles QB Donovan McNabb? One guy who was definitely looking forward to facing NO. 5 and the Redskins next week is defensive end Trent Cole:
"It's going to be a big game for everybody. He used to be our quarterback and now we have to play him. We're not going to treat him any differently than any other opponent. He's on the opposite team so he's the enemy. So, we're coming."
Certainly we will all be sick of hearing about McNabb by the time kickoff happens next Sunday.