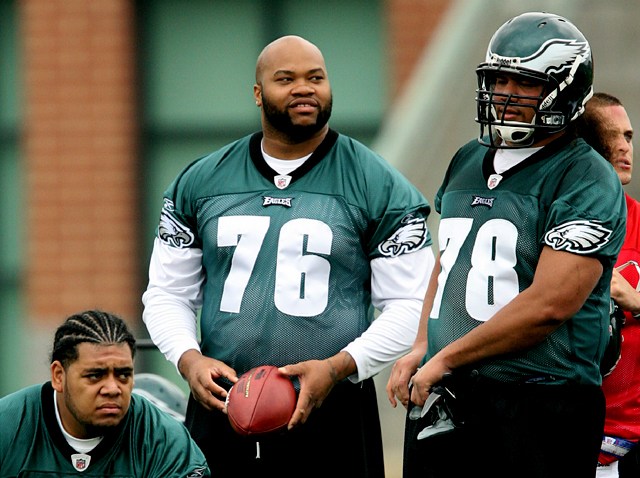 Busy day at Eagles headquarters on this Saturday of Labor Day weekend. As teams around the NFL make final cuts to drop down to season roster of 53 players, the Eagles did so with gusto, making multiple surprising decisions in terms of keeps, cuts, and trades that no one expected.

Let's break it down.

Stacy Andrews traded to Seattle: The Eagles received a 7th round pick for a player they expected to start at right guard this season, if not in 2009. After sticking with last year's marquee free agent signing through one horrendous season, the Eagles hoped Stacy would finally prove worth the trouble. It didn't happen. Thus, today the front office cut bait and unceremoniously shipped Andrews to the Pacific Northwest for pennies on the dollar. Some rough math indicates that the team wasted approximately $20 million dollars on the two Andrews brothers over the last 3 years. Good riddance.

Max-Jean Gilles (temporarily) cut loose: As an addendum to the Stacy Andrews trade, the Eagles reportedly sent the paperwork to the NFL three minutes too late and thus had to make one more cut to get to 53 players. MJG is expected to resign with the team by Monday, when he will compete with newly acquired guard Reggie Wells for a backup spot.

Chad Hall, Kelley Washington, and Jordan Norwood released: Hall was a nice story who never showed the dynamic playmaking skills we were promised. Norwood isn't much more than a practice squad body. Many fans wanted Washington to supplant mainstay Hank Baskett for the fifth and final reciever spot, but Baskett is the only one who can be trusted to step in for an injured player.

Antwan Barnes acquired from Baltimore: Terrell Suggs's backup with the Ravens, the 6-1, 251-pound pass rusher will play defensive end for the Eagles. Barnes has Asante Samuel's endorsement, but is probably the sixth end out of six on the roster right now. By the way: only Trent Cole and Juqua Parker remain at the position from last year. Lots of turnover.

Both Quintin Demps and Macho Harris sent packing: Going into the day everyone assumed that the team couldn't keep both safeties, but everyone expected at least one of the players to make the squad. Demps, after a promising rookie season in 2008, couldn't rescusicate his career after failing to step into the starting role vacated by Brian Dawkins. Harris, as a 5th-round pick last year, moved into that void and started at free safety for most of 2009. But after some injuries and underwhelming play this preseason, Harris is gone along with his competitor. Rookie Kurt Coleman is now the only backup safety. Look for the team to add another safety in the next few days.

A.Q. Shipley, Dallas Reynolds, Fenuki Tupou, Eric Moncur, Jeff Owens cut: A bunch of young players unsursprisingly released, a few may be back in Philly as practice squad material.

Jorrick Calvin kept: The cornerback/returner aqcuired via trade only a few days ago has made the team, at least for now. Odd that the team thinks more highly of Calvin than recent draft picks Demps or Harris. Very easily could be cut once the Eagles find another safety though.

Cornelius Ingram released: The oft-injured tight end hasn't had a good knee in two years. Who knows if the über-talented Ingram will ever play again. Something to keep in mind: only three players now remain on the team from the 2009 draft.
Tracy White traded to New England: While the team would have released White (who they only picked up off the streets a few weeks back), instead they sent him to the Patriots for a conditional draft pick in 2012. Whatever the conditions are to receive the pick, I doubt they'll ever be realized, but it's still odd that anyone wanted White even that badly.