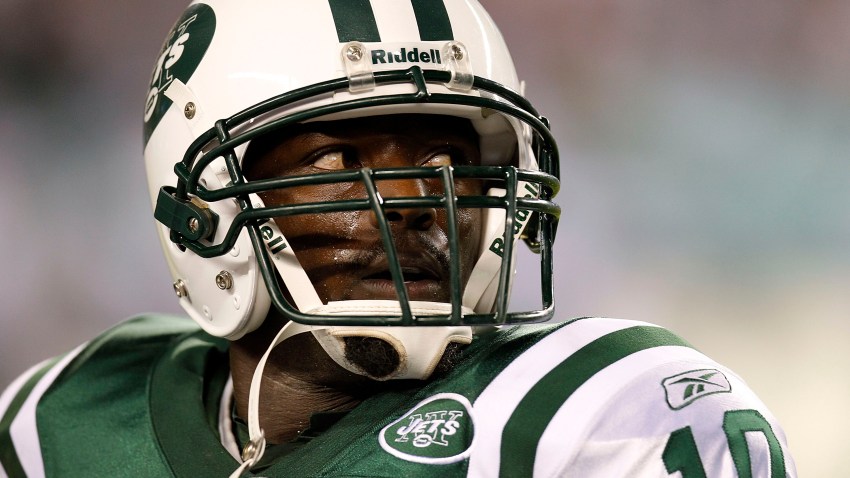 Rookie safety Kurt Coleman scored twice but the Eagles offense sputtered Thursday night as the Jets downed the Birds 21-17.
With stars Kevin Kolb, Brent Celek, DeSean Jackson, Stewart Bradley, Quintin Mikell and others watching form the sidelines the backups (for both teams) made their cases to earn final roster spots with cut down day looming on Saturday.
Coleman, a seventh-round pick out of Ohio State, likely cemented a roster spot by recording five tackles and recovering two fumbles for a touchdown.
"I haven't had two touchdowns in a long, long time," said Coleman after revealing that he used to play wideout in high school.
K.C.'s first was a 64-yard scamper down the Eagles sideline where he only had to beat New York's veteran backup QB Mark Brunell on his way to pay dirt. The second score came on an 8-yard rumble where Coleman had to earn his way into the end zone.
Unfortunately for Eagles fans looking for big things out of the second and third string offense, not much happened. "Starting QB" Michael Vick lasted only a quarter going 3-for-5 for 56 yards and rushing for 11 yards. The offense seemed to be moving with Vick at the helm. The same thing couldn't be said once third-stringer Mike Kafka got behind center. The rookie out of Northwestern looked terrible completing just nine of 27 attempts for 76 yards and an interception.
Really the only starters who made appearances for either team were the special teamers and Jets wideout Santonio Holmes, who with a suspension looming played most of the game.
At least it was just preseason and the Eagles left without major injuries.
But I digress this game was about guys trying to make the roster. Here is a list of guys who saw their stock rise, remain the same or fall on Thursday at the Linc.
Risers:
Kurt Coleman -- look above
Moise Fokou --11 tackles (including special teams) on his way to showing versatility as either a linebacker or possibly playing a joker/defensive end role. "I think the coaches knew I always had it in me and just today they put me out there and just let me loose… go out there and do you're thing Moise," the second-year pro said about his big night. Head coach Andy Reid might agree: "I think he improved no only at the linebacker spot... but also the defensive end as a pass rusher."
Kelley Washington -- He only caught two of the four balls thrown his way, gaining 18 yards. But his real contribution came on special teams where he twice made great plays to help pin the Jets deep in their zone. It could be a tough choice between him and Hank Baskett for the fifth wideout spot. Don't be surprised if the Birds carry six receivers.
Anthony Scirrotto -- The long shot out of Penn State might have earned a practice squad spot by making two tackles at the safety spot and two more on special teams.
Jorrick Colvin -- he quickly let coaches see what he can do by averaging 28 yards on two kick returns, 12.5 yards on two punt returns and playing some cornerback.
Pannel Egboh -- another newcomer with something to prove. The 6-foot-6 d-end recorded two tackles; a sack and a forced fumble in his first appearance in Eagles green. A roster find? Unlikely. But he could be a capable practice squad player.
J.J. Arrington -- The running back made a splash in the return game when he knocked off a 40-yard return to start the game. He still might not make the team but he likely jumped ahead of a guy like Martell Mallett with his play against New York.
Keenan Clayton -- The rookie LB who is likely battling with Jamar Chanay and others to make the team looked good while recording three tackles. And he added an open field special teams tackle to boot.
Eldra Buckley -- Anyone who thought the second-year back was on the bubble was proved wrong Thursday night. He cemented a roster spot by rushing for 12 yards on just two carries. But more importantly he was sharp all night on special teams.
Boo Robinson -- he had nowhere to go but up on the depth chart. So it was nice to see him get four tackles, a sack and fumble recovery in what will likely be his last game with the Birds.
Staying the Same:
Chad Hall -- The tiny guy out of Air Force did the right thing fair catching punts when he was given the chance. But he failed to do much else only managing a fourth-down grab, a 13-yard catch and a 4-yard run. We already knew he could do many things but he needed to do more than normal. After another average performance it will be tough seeing him land a roster spot.
Tracy White -- The veteran LB/Special Teamer had five tackles but no game-changing plays. If the Eagles planned on keeping him this game neither hurt nor helped his cause.
Riley Cooper -- Sunshine is tall and fast -- he already had a roster spot locked up. But, in limited action he looked pedestrian outside of a 27-yard grab to start the game.
Clay Harbor -- He only had one catch for 14 yards in his first start. His spot as the No. 2 tight end was already pretty much clear so he really didn't show anything new.
Mallett -- The former CFLer only had six carries for 16 yards doing little to make his case for one of the final roster spots.
Fallers:
Kafka -- he flat out looked lost at times
Macho Harris -- he had plenty to lose going into the this game and was beaten a few seperate times. He managed just one tackle on defense. Despite his versatilite as both a safety and corner, Macho could be flexing elsewhere comes Saturday.
Cornelius Ingram -- he failed to show much of anything again failing to make a single grab.
Also some special mentions to the Eagles special teamers:
Sav Rocca looked sharp as he averaged 48 yards on seven punts. As a whole the punt coverage looked good thanks to Rocca's boomers and the sharp play of guys like Washington and Scirrotto.
Kicker David Akers perfect preseason (11-for-11) came to an end when he missed a 49-yarder in the third quarter. But his own coach iced him when Reid called a timeout prior to the kick. So we will let Akers slide on that one.
And long snapper Jon Dorenbos had one of the funniest moments of the game when he was heard over the referee's microphone asking if his tackle on a long 58-yard Rocca punt would stand after a penalty was called.
The next big date for the Eagles is Saturday when the roster will be cut down to 53 players. With intense battles in the defensive backfield, linebacker and wide receiver there could be some surprises.
Reid realizes that tough decisions lie ahead in the coming day or two:
"They'll be some decisions that we have to make that are tough."