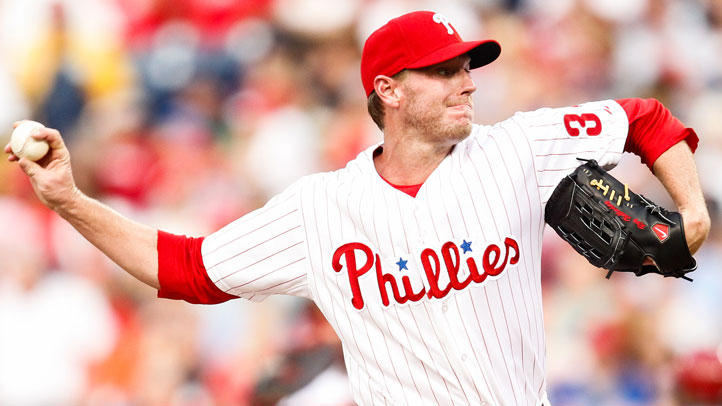 When Roy Halladay got traded to the Phillies prior to the 2010 season, we knew what to expect from the pitcher who dominated the tough American League for his entire career. Halladay didn't disappoint, and he tore through the National League like it was tissue paper during his first two years as the Ace of the Phillies staff. While the other 24 members of the team offered some flux from year-to-year, Doc was as predictable as a fine-tuned wristwatch.

At least, that was the case up until last season, when Halladay experienced his worst season in over a decade following a spring in which many wondered if the right-hander was injured due to a noticeable drop in velocity. What at first was thought to be a March malaise turned into a season-long issue for the veteran, thanks to a shoulder injury that appears to have stuck with him through the end of the year.

And it's for that reason that Roy Halladay's 2013 spring has come under so much scrutiny, because the one question that needs answering is whether or not last season was a blip on the radar or the start of a trend that ends with Halladay becoming a merely average pitcher.

While the jury is still out, it's pretty evident that things are not going well for Doc, who was roughed up on Saturday afternoon in a start against Toronto Blue Jays minor league players, who tagged him for three runs on seven hits and a pair of walks. He struck out one.

There's a lot to be said about the merits of spring training performances, but it's fairly evident that Halladay is having a rough go of it. Maybe it's because he is still recovering from a stomach bug that resulted in him losing some ten pounds over the course of a few days, but based on his fastball velocity – which sat mostly in the high 80s – it doesn't look like things have improved much this month for the 35-year-old starter.

While we'd all like to think that Halladay will be fine when the season starts eight days from know, the Phillies must proceed as if this is their new reality; one where Halladay is no longer the known quantity that he was for so much of his career. It's a sad notion, to be sure, but one that they need to start accepting. Thankfully for them, they have Cole Hamels and Cliff Lee to turn to, so all is not lost as far as the rotation goes.

Even with the two horses at the top of the rotation, you still hate to see Halladay struggle like this, considering how easy he made things look in 2010 and 2011. He was once the most durable pitcher in the game, and now it looks like all those innings just might be catching up with him.

With a week to go until the regular season starts, you have to wonder if that is enough time for Halladay to make whatever changes necessary in order for him to be effective in a world where he doesn't throw in the low 90s. Baseball is a game of adjustments, and the onus is now on Roy Halladay to make the most important one of his career.