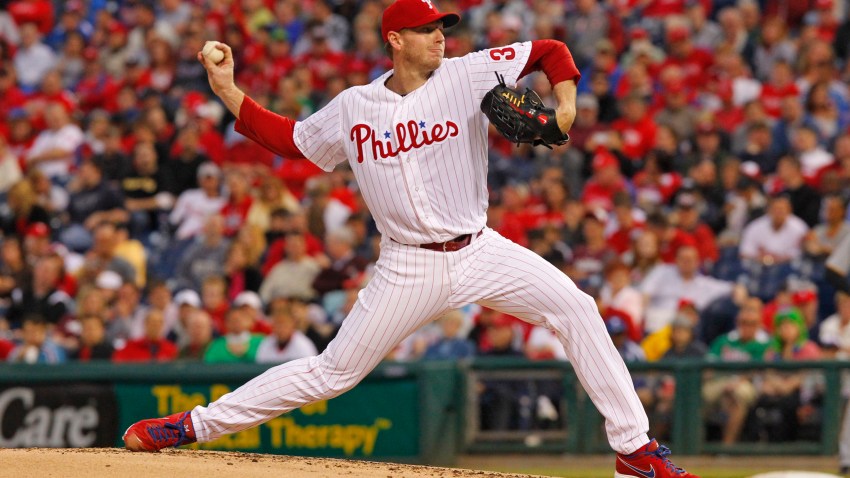 It's a move that shouldn't surprise anyone, the Phillies announced on Monday that starting pitcher Roy Halladay will be heading to the 15-day disabled list due to inflammation in his right shoulder.
This news comes on the heels of Halladay's worst start of the season – a two inning, nine run mess – and a proclamation that his right shoulder hasn't been feeling all that great since his start nearly two weeks ago. Since that start, he's given up 17 runs in six innings of work, causing many of us to wonder if he was, quite simply, washed up.
The right-hander, who dominated the National League in his first two years with the Phillies, is 2-4 this season with a 8.65 ERA in 34.1 innings of work over seven starts. In four of those starts, Halladay has given up more than five runs while failing to get past the fourth inning.
For now, it appears that he's dealing with an arm injury, which I suppose is more preferable than him just losing his ability to throw a baseball at the drop of a hat. Not that we ever want to root for a player to be injured, but at least this sort of explains just why he's been so bad lately. Being a 35-year-old pitcher with a ton of miles on your arm is probably hard enough even when you're perfectly healthy.
It remains to be seen what the future holds for Halladay, but the Phillies figure to have a much better idea after he visits with a shoulder specialist in Los Angeles. I'm not a betting man, but I wouldn't at all be surprised if Halladay doesn't pitch another inning for the Phillies in 2013. That's a sad thought, but shoulder injuries can be trouble, and a guy like Halladay might not be able to just bounce back like he used to.

Whatever happens to Roy, we can all agree that this is not how any of us envisioned the future Hall of Famer going out. With any luck, his issues on the mound will be in some way connected to something messed up in his body. Hopefully, it's something that can be corrected, because a nine-run outing against the Miami Marlins is no way to end one's career.

For now, the Phillies have called up LHP Joe Savery to take Doc's spot on the roster. That move is likely to be very short-lived, however, as the Phillies will need to add another starting pitcher to fill out the rotation. In all likelihood, the Phillies will tap either RHP Tyler Cloyd (1-3, 5.40 ERA in 35 IP at AAA), or LHP Adam Morgan (1-2, 3.23 ERA in 30.2 IP at AAA) to take his spot.