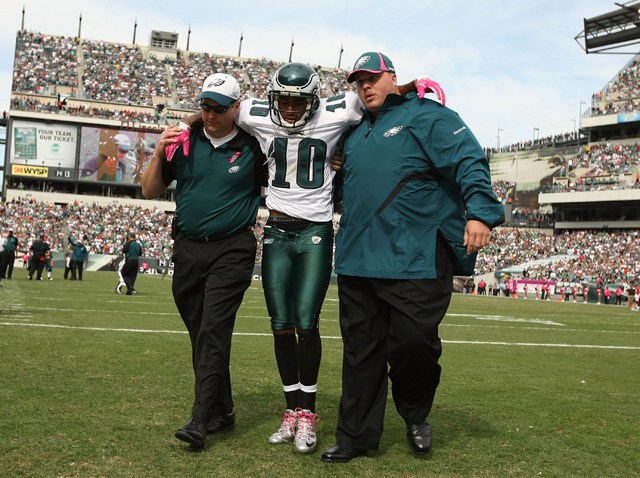 Wondering what it's like to nearly have your neck forcefully removed from your head and torso? DeSean Jackson knows. Yesterday, he spoke publicly for the first time about the vicious hit from Dunta Robinson that could have ended his career and caused the NFL to draft an immediate overhaul of how it enforces its rules.
Eagles wideout DeSean Jackson said his collision with Atlanta's Dunta Robinson felt "like a car accident" and that he lost consciousness for a few minutes…

He did not say he definitely will be back against the Colts.

Jackson said symptoms were much like his concussion last year. "Headaches, feeling slowed down, feeling drowsy. Feeling tired."

Asked about the NFL's crackdown on hits that cause head injuries, Jackson said he thinks it will be really hard to do much. "It's a rough sport we play," he said.

…Jackson said he thinks he was out :"a couple minutes" and didn't fully know what was going on for about an hour.


If you recall, Eagles coach Andy Reid brushed aside reports that Jackson suffered memory loss due to the hit, but Jackson's account would seem to suggest otherwise.

Studies of concussions over the years have shown that multiple concussions can have a cumulative, permanent effect on brain function. Jackson says his concussion symptoms are similar to last year's concussion, which is bad. It's not as if the damage from that prior concussion went away. To the contrary, this second concussion amplifies that damage to an unknown extent. It's probable that Jackson will suffer from post-concussion symptoms well past his playing career, the way former Pats LB Ted Johnson and so many others have.

This presents the Eagles with a challenge with regards to Jackson's playing status. There's no amount of rest that will ever get Jackson's brain back to where it was before his concussion. And the NFL's concussion policy only lists certain testing criteria that players have to meet to be able to return to the field (Jackson passed his first test and will be evaluated by an independent doctor later this week). They don't have a hard and fast mandatory rest period for your first, second, and third concussion, and beyond. Perhaps they should. I hope they don't wait until Jackson's third concussion to figure one out.