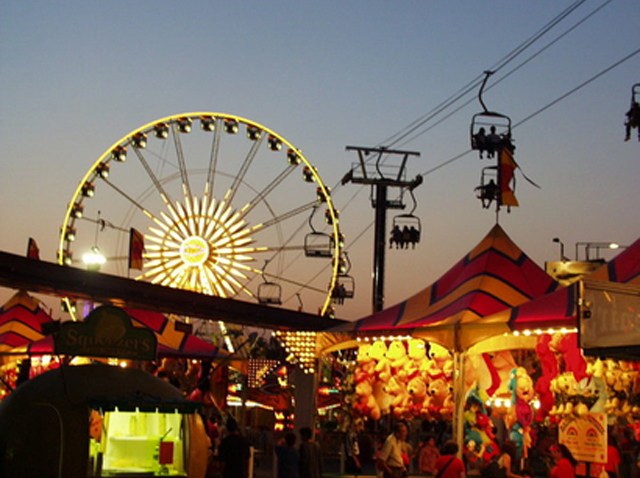 A carnival, Paula Deen, Brad Paisley, a rodeo, circus, Lynryd Skynyrd, racing pigs and the list goes on.
The Delaware State Fair begins Thursday, July 22 and offers lots of activities for the whole family.
There's a great show lineup this year, beginning with Southern food expert Paula Deen. Watch Deen cook while she shares recipes and stories. Tickets cost $35 to $45.
If you're into all that Southern culture, catch Brad Paisley live on July 25 for $54 to $59.
All you rockers can catch Lynryd Skynyrd on July 26. For the younger crowd, Selena Gomez & The Scene will perform on July 28 and all the beach bums can enjoy The Beach Boys on July 29.

If you'd prefer some cheap entertainment, there are tons of activities and shows that are free with fair admission. General admission for ages 10 and up is $6. Kids nine and under are free.
Take the kids to see the animals and acrobats at the circus, or feed the giraffes and ride the ponies on July 22 from 5 p.m. to 9 p.m. And you won't want to miss the Championship Rodeo on July 23.
See what Delaware's youth and seniors have to offer in two separate talent shows. The kids show off their skills on July 25 and the seniors get their shot at stardom the very next day.
And of course, there's the carnival. For just $16, you can enjoy all the rides you want all day long -- the Ferris Wheel, Tilt-A-Whirl, Mega Drop and more.
Don't forget about the delicious fair food. Grab a funnel cake, ice cream, or cheese fries while you take in all the entertainment you can handle.
The fair runs until July 31. Check out delawarestatefair.com for a full list of events, times and prices.