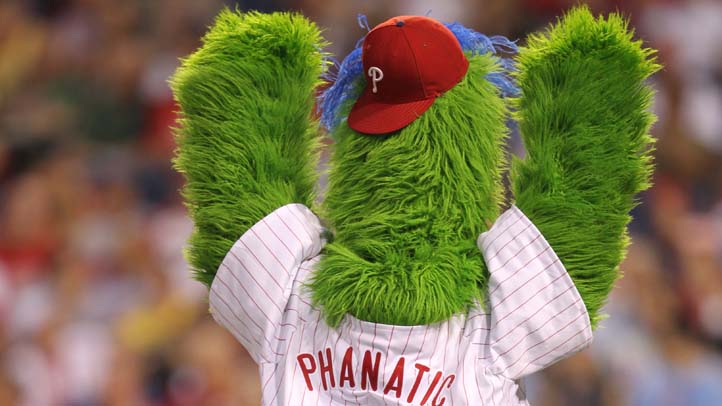 The city of Philadelphia is ready to rally behind its beloved Phillies this Friday as they face the St. Louis Cardinals in the definitive Game 5 of the NLDS.
Fans can start to get revved up for the do-or-die game starting in the morning and continuing right up to game time.
Game day begins at 9 a.m. with the Majestic Clubhouse Store at Citizens Bank Park opening for business. Postseason and National League East championship Phillies merchandise is available for purchase. The Division Series edition of Phillies Magazine will also be on sale.
At noon, the Phillies Rally Trolley packed with Phillies alum, Phillies announcers, Ball Girls and even the Phanatic pulls it way into Center City as it makes its way through the town.
A Block Party will be open to all fans (no game tickets necessary) at Citizen Bank Way starting at 5:30 p.m. A live concert by local band Mr.Greengenes and free samples of Turkey Hill ice cream will kick off the event. There will also be a meet and greet with Phillies Ball Girls and Phillies face painting.
Local radio stations will be on site with interactive games. There will also be plenty of great food and drinks including Bull's BBQ pulled pork sandwiches. McFadden's at the Ballpark and Ashburn Alley will also be open and offering a great selection of food.
Once the gates open, every Phillies fan will get a free rally towel compliments of StubHub.
The color guard will be represented by the United States Navy and Kane Kalas, son of the late Hall of Fame broadcaster Harry Kalas will sing the National Anthem. Lauren Hart will sing "God Bless America," at the seventh-inning stretch.
First pitch will be thrown by Phillies legend Greg "The Bull" Luzinski.
Of course if you don't have tickets you can also cozy up on your couch or head down to your favorite sports bar to hopefully celebrate an NLDS victory with fellow fans.
First pitch is around 8:37 p.m.
GO PHILLIES.