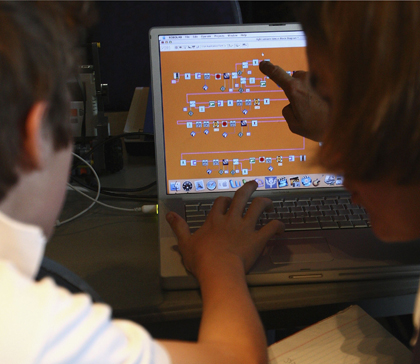 I love computer simulations of sporting events. I love it when they let a Playstation play the Super Bowl 100 times right before the actual game to calculate an average result. I love it when someone somewhere develops an algorithm that tells me precisely how many yards LeSean McCoy will rush for this season. These simulations are all useless, mind you. But I like them because I WANT to believe them. I want to believe that an NFL result can be easily and successfully predicted through the use of mathematical formulation. It would make betting so much easier.

The people at What If Sports share my enthusiasm for this sort of thing, which is why they used a simulation engine to predict the exact team-by-team records and playoff results for the entire upcoming 2010 season. How did they configure their simulator? What kind of stats did they weigh? Was DVOA involved? I don't know. I don't really care. For all I know, they could have had a monkey wipe banana paste on a series of Bingo cards. It doesn't matter. All that matters is that the computer gave your Philadelphia Eagles an 11-5 record (Yay!) but has them missing the playoffs (Booooo).

Here are the projected records for the entire NFC East:

Dallas Cowboys 12-4

Philadelphia Eagles 11-5

New York Giants 8-8

Washington Redskins 8-8

The computer has the Cowboys losing to Green Bay in the NFC Title game. Then the Packers beat the Chargers in the Super Bowl. It'll comfort you to know that Peter King predicted this exact same Super Bowl matchup, and Peter King is always hilariously wrong (last year he had the Bears winning the NFC).
This computer simulation will also likely not be the last projection to stick Dallas on top of the NFC East. They're the "it" team in the division this year, and that's always a bad thing. Ask the 2009 Eagles. Expect Dallas to now go 3-13 and have six players perish in a bizarre cliff diving accident. A computer printout told me so.