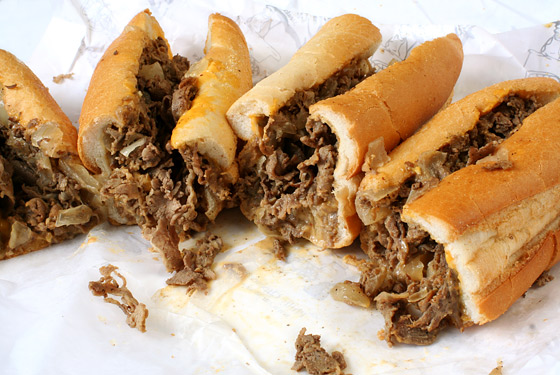 The past two weeks, Jim's and Tony Luke's have been pitted head-to-head in the Golden Local Debate. Who really makes the best cheesesteak? This mystery will soon be answered. You haven't cast your vote? Well, make it count and vote for the Golden Local!
We've taken you through the world of cheesesteaks, from the calorie and nutrition info (even Richard Simmons indulges in the greasy goodness) to a peanut butter cheesesteak.
So, before voting comes to a close, brief your inner foodie (or fatty) on everything cheesesteak.
Proud to Be a Cheesesteak Snob
NBCPhiladelphia.com's Vince Lattanzio prides himself on being a cheesesteak snob.
So many chains sell so-called "cheesesteaks" like the awful Subway Big Philly Cheesesteak or even Wawa's version.
Don't even get me started on Domino's Philly Cheesesteak Pizza -- I don't care if they got the "stamp of approval" from the Oliveri Family (the owners of Pat's and the sandwich's inventors).
I refuse to eat them. They go against everything the cheesesteak is about. It's like spitting in the face of the city.
I won't even get one when I'm in New York, let alone Florida or Cali, but what about all Philadelphians who are forced to live in other parts of the county? What do they do?
So I did a little research to see what "cheesesteak" offerings there were around the country:
Philly's Best in California flies in Amoroso's Rolls to help make their sandwiches taste like home. I don't know if the rolls will cut it…
South Philly Cheese Steaks in the Denver-area claims they're the "Cheese Steak Champ" (Notice the space in Cheese Steaks…far from a champ I bet).
Ohio-based Great Steak & Potato Company fails simply on the fact they call their sandwiches "Philadelphians."
The crème de la crème has to be Fred's Philly Cheesesteaks in Plano, Texas. Their slogan definitely has the Philly charm: "Best 10" You Ever Had in Your…" (You can check their site out for the rest).
Is it fair that these places are repping our sandwich? I don't think so!
A real cheesesteak needs a little Philly dirt and Schuylkill wooder. They come from the corner shop or mainstays like Tony Luke's or Jim's.
If you're a true Phillite and have eaten at any of these places, please leave your review below. I want to know if I'm right!
And now pick up the phone and order a real cheesesteak and oh, by the way, make your pick for Philly's Best.
Larry's Steaks: Home of the Belly Filler
Larry's Steaks on 54th Street (across from St. Joe's Field House) is a no-frills, fast-moving sandwich joint. The kitchen is on your left as you walk in, you order and pay at the counter, and sit in a simple (maybe even a little dirty) booth or table along the plain white walls.
A word of advice, step aside if you don't know what to order, otherwise, you will get dirty looks from customers who do as well as a huff from behind the counter.
That's not to say that the help isn't friendly. Everyone working was polite and happy, but let's face it Philly, time is money. So place your order, grab your food, and keep it moving.
Onto more important matters--like the food. Larry's is home to the Belly Fillers. A Beller Filler is an enormous portion of most menu items prepared anyway you like. Whether it's a plain old cheesesteak ($11.50), a chicken cheesesteak ($11.50), or Larry's House Way steak with sweet peppers, mushrooms, fried onions, cheese, pepperoni and sauce ($13.50), Larry's bets you can't finish it. For those of you that don't even want to try, they do have standard size cheesesteaks cooked and topped with whatever ever tickles your fancy for $6 to $7.
Steaks are not the only item on Larry's menu and certainly not the only Belly Fillers. You can order anything from a vegetarian stromboli (broccoli, green peppers, tomatoes, onions, and mushrooms, $8.75 for a regular and $11.50 for a belly filler) to a Veal Grinder (with cheese and sauce, $ 6.05/$11.50) to Larry's special pizza (pepperoni, sausage, green peppers, mushrooms, onions, and extra cheese, $8.20/$13.90).
What steak shop would be complete without those greasy side orders that Philadelphians love? You can add onion rings ($2.50), mozzarella sticks ($5.05) or cheese fries (mozzarella, $3.20 or whiz, $3.10).
The best thing about Larry's (aside from the food) is the hours. They're open early (10 a.m.) and stay open until 3:30 a.m. on the weekends.
Peanut Butter Wit--Please
Jordyn Boyer of Lebanon, Pa. must have tapped into Philadelphia culture when creating her sandwich for Jif's Most Creative Peanut Butter Sandwich Contest.
The 10-year old won the contest by creating a peanut butter cheesesteak she named "Po' Boy Peanut Butter Chicken Cheesesteak Sandwich."
Unlike anything that can be ordered at Jim's or Tony Luke's, the sandwich was made with chicken, peppers, onions, mozzarella cheese and the key ingredient -- peanut butter.
A dipping sauce made of peanut butter, Worcestershire sauce, honey and honey mustard added lots of flavor to the sandwich.
Boyer beat out more than one thousand other children and battled five other finalists in a cook-off in front of judges in New York City. Recipes were judged on preparation, nutrition, appearance, taste and creativity.
She must have scored extra points for creativity. For her efforts she scored a $25,000 scholarship from Jif.