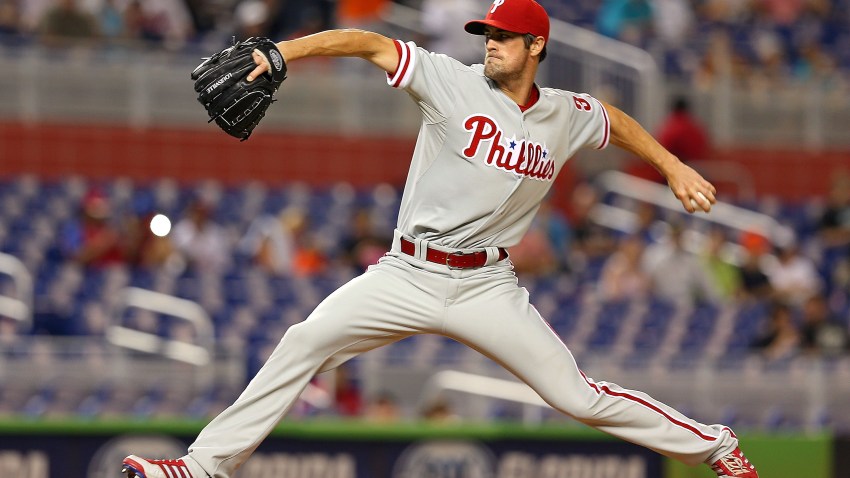 Phillies starter Cole Hamels caused a minor stir on Monday night, when he opted not to speak with reporters following his six inning outing against the Florida Marlins, where he took the loss despite allowing a pair of runs over six innings. It was one of the best starts of the season for Cole, who struck out ten hitters without walking a batter. Once again, he was undone by a lackluster offense that failed to get anything going against one of the worst starters in the league.

Following the game, beat writer Jim Salisbury of CSN Philly tweeted about Hamels' exodus from the locker room, which predictably set off a mini firestorm among Phillies fans. After taking some time to think about the cluster-screw that was last night's loss to the worst team in the National League (thanks, Houston), I've come to the following conclusion regarding Cole Hamels beating a hasty retreat following his seventh loss of the season:

Good for him.

I typically don't care much about what athletes have to say during their postgame interviews, because it's hardly ever anything new or interesting. It's rare that they offer anything up that isn't some combination of cliches that other athletes have offered up before them. There are exceptions, of course, but more often than not, they are just regurgitation the same old song and dance. And that's fine. They are professional athletes, and we can't expect them to have some fresh and new take on what just occurred on the baseball field. As much as it's a hobby for us, it's a job for them, and quite frankly, the last thing you want is to be asked questions about your job every night for six months. Eventually, you'll run out of things to say.

So when Hamels took off without speaking to the reporters, I didn't care, and neither should anyone else. Because really, what can he possibly say? That he felt good out there, or that it was a tough loss for the Phillies? He's 1-7 through his first ten starts in the first year of his contract extension, so I can understand if the guy is tight-lipped when it comes to the post-game interviews.

And yes, Cole will be the first person to tell you that he's been the cause of many of his troubles this season, as evidenced by his increased walk rate and the fact that he can't keep some teams from piling up the runs, but the fact remains that he's been good more often than not. He's had three stinkers, four great starts, and a few so-so ones. Maybe he's been inconsistent, but he's done his job by putting the Phillies in a position to win more often than not.

The missing ingredient, of course, has been the offense. They've given him very little to work with, meaning that he has to be darn-near perfect every time he takes the hill. And even pitchers as good as Cole Hamels need some run support every now and again. As a pitcher, knowing that you have to be pretty much perfect when you take the hill has to not only be frustrating, but also terribly stressful. We can probably assume that Hamels can deal with the stress of it all, but that doesn't change the fact that he gets frustrated when the offense seems to mail it in when he toes the rubber.

When Hamels – or anyone – doesn't speak after a game, try not to think too much of it, because very little good can come of a frustrated player speaking their mind. If Hamels hung around and actually said something worth writing about, he'd likely have succeeded in throwing the offense under the bus. Not that he'd be wrong in doing so, but the last thing Hamels needs to do is throw a barrel full of gasoline on the fire.

So, in conclusion, Cole Hamels can talk to the media as much or as little as he wants, because at the end of the day, it's not going to change anything that happens between the white lines.